Fusing Genres by Bobby Del Rio
When I was first starting out as a writer, I made the decision to constantly write the opposite of what I had previously written. I won a playwriting award in university, and parlayed that momentum into some media attention as a young playwright in Toronto.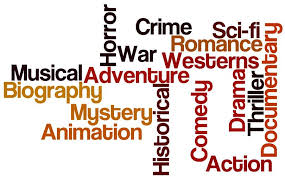 But with the ensuing media attention I received in the next couple years, I realized that there was still an awful lot about writing I didn't know… I decided that the only way to keep evolving was to start writing the OPPOSITE of what I had built a reputation for. (At the time, since I was in my early 20s, I was known for teen drama.) I also didn't want to get pigeonholed as being a particular "type" of writer, and the media does have a tendency to want to 'define' you (mostly for the benefit of their readership/audience, I think).
With every subsequent script, I started trying my hand at new genres. I didn't necessarily think of them as genres at the time, but that's what I was doing. I started out in teen drama, then moved to boisterous comedy, then tried my hand at naturalistic relationship drama, then started experimenting with absurdism, then romantic comedy, then gangster movies, etc.
After about a decade of consciously learning particular genres, I began to combine them.
That's when my writing career really started to take off.
I've had many writing jobs in the last couple years, and I attribute this mostly to my conscious effort to fuse genres. If you really look at today's most recognized screenplays, many of them could certainly be considered hybrids. Tarantino does it constantly (Django Unchained was Western + comedy + revenge thriller), Christopher Nolan (Inception was film noir + science fiction), Woody Allen (constantly blending comedy + tragedy), Spike Jonze (Her was romantic comedy + dystopian cautionary tale), etc.
We can argue about which specific genre elements were utilized in the above examples, but nobody can deny that those scripts feel fresh, original and DIFFERENT. For me, it's fairly simple: If you build on the archetypes of the past, you can create something original in the future.
A simple (but effective) entry point for me in recent years has been saying to myself: What genres should I combine next? I just wrote/directed a feature film adaptation of my best play, The Market. When I began writing the play, I purposely set out to combine many tropes from genres I described as "uber male". I took film noir, crime drama, buddy comedy and Wall Street action movies and combined them into one. The audience reaction (usually male) was unlike anything I had ever experienced as a writer (when we did the play). Many men absolutely loved the script, and I believe it's because I was literally utilizing recognizable tropes from movies they loved in the past.
Many different people kept telling me my script reminded them of other movies they had seen in the past. That's because I knew the genres I was fusing extremely well.
I believe there is a real opportunity moving forward as screenwriters to combine genres that people haven't really seen before. We live in a very complex and deeply integrated world. The internet has made it quite easy for people to become experts on genre. You can watch entire television series from the 80s effortlessly, you can watch every single horror movie online if you have the time (which many people seem to be finding), etc.
People know genre inside and out these days, so I think it's quite difficult to write a script that plays in only one world. Those scripts tend to feel outdated, like the audience has "seen it before". Part of the reason my scripts tend to feel original for producers (which I've heard again and again) is for the simple reason that I am combining genre elements they haven't seen before in the same script.
I believe in the notion that there are only 7 original plotlines in the history of the planet. Every script is a variation thereof, so for me, it makes perfect sense to simply start combining elements of those original storylines into one another.
Dialectical idealism is the principle that new things arise from previous incarnations of itself. That is an oversimplification of complex Hegel theory, but the general point remains: What is new is predicated on the perception of things that are old.
While it should be stated that one cannot fuse 2 genres together until one is experienced with the tropes of BOTH genres, it's an excellent way to create unique combinations of possibilities. Now having written 60 scripts, what keeps me going creatively is that I might hit upon some magical 'formula', some new way of writing a script that completely changes the game for me…
But above all, writing should be FUN. While many of us who do this as our job can feel overwhelmed by the consumer politics of it all, I believe that stretching beyond your comfort zone as a writer is the way to achieve the feeling of freedom and creativity. Try combining elements from genres that seem completely unrelated. You might be surprised at how well the puzzle pieces fit together…
In summation, Bob Dylan said it best: The Times They Are A-Changin'.
Bobman
Bobby Del Rio is a published playwright and working screenwriter. He just wrote/directed the feature film The Market, and has many other feature screenplays completed for producers around the world. www.bobbydelrio.com
---