The fourth Female Pilot Club script-performance, taking new female written TV comedy pilots up for a spin with the best of British comedy talent. Piloted by Kay Stonham, Abigail Burdess & Emily Chase
Event Report by Lucy Hackney
Last week I was joined by my fellow Script Angel Coach, Katherine Lannon as we were lucky enough to get into what's becoming quite a hot ticket event; the Female Pilot Club.
It was a Founder's Night with rehearsed readings of new comedy from Kay Stonham (herself a Script Angel Consultant) and Abigail Burdess at the Comedy Museum.
I have to say, I've been to quite a few rehearsed reading events in my career, some of which have been a good way of presenting the drama, some of which have been largely, to be honest, buoyed up by good will. This was different; a wonderful performance of two really top notch comedies had the whole audience in almost constant peals of laughter.
Kay Stonham's Sparkling Futures was a fabulously mischievous Comedy Drama not afraid to poke fun at the po-faced liberalist culture with a refreshingly subversive anti-hero who discovers he is father to a lot of bourgeois kids with expectations of a fatherhood rather different to his own.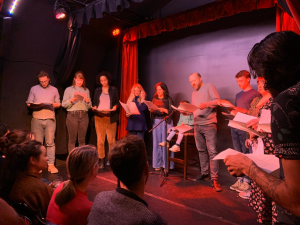 Cast: Steve Oram, Jamie Thorogood, Arabella Weir, Katy Poulter, Sarah Hadland, Amanda Wilkin, Laura Evelyn, Abigail Burdess, Martin Trenamen, Matt Lacy, Amer Chadha Patel, Jayne Aguire.
Abigail Burdess's Big of Me played out every woman's nightmare when a husband is really still controlled by his Mum (wonderfully dominantly played by Sindhu Vee).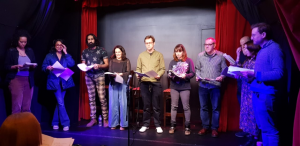 On stage are: Abigail Burdess, Finlay Robertson, Amer Chadha Patel, Sindhu Vee, Isy Suttie, Amanda Wilkin, Marek Larwood, Alexander Kirk, Emily Chase, Matt Lacey
The Female Pilot Club was started by Kay Stonham and Abigail Burdess, now joined by Emily Chase, to showcase the incredible female comedy writing (and performing) talent in the UK.
Saskia Schuster and Emma Barnard at ITV Comedy 50:50 have given a lot of support, although it's a self funding project.
This was the fourth event. Previous writers whose work has been featured have been Georgia Pritchett (Succession), Julie Bower (So Awkward) and Carol Walsh (Fair City).
Other actors taking part have been Tracy Ann Oberman, Robert Webb, Amelia Bulmore, Vivienne Acheampong, Greg McHugh, Louise Brealy, Maggie Ollerenshaw, Kerry Howard, Jordan Stephens, Maddie Rice and others.
Production Companies and Broadcasters attending have included Hat Trick, Hare and Tortoise, DLT, The Forge, Yellow Door, Black Dog, Main Street, BBC, ITV, Comedy Central, Audible and others.
Writers have had meetings with producers and broadcasters and options on scripts as a result of being showcased at the Female Pilot Club.
Anyone can submit a script; they should be sent in to comedyfiftyfifty@itv.com. They don't give feedback or reject scripts. The idea is that they read until two are found that the Founders think will work in a live setting together and then they put them on. Scripts stay under consideration until a writer asks for them to be removed.
Kay tells me the current plan is to do a 'new writers' evening later this year so if you have something original and in good nick you might want to think about submitting it soonish.
They may still await their first green light commissioned series but I don't think it'll be too long.
Follow the Female Pilot Club @femalepilotclub on Twitter and Instagram.
---