Content London is the annual gathering of the global drama industry and, after twenty months of back-to-back video-meetings for us all, it was a welcome return to meeting people in-person, Hayley McKenzie reports.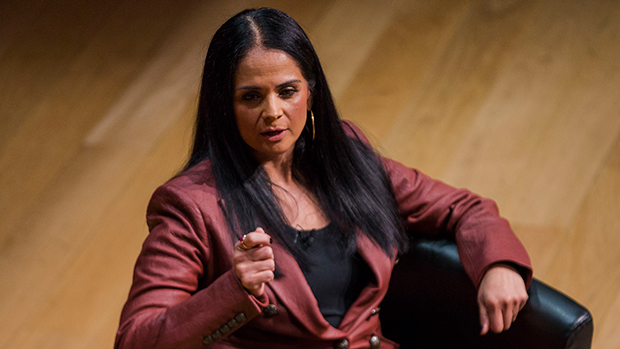 As a globally significant co-production, financing and development market, Content London attracts not only commissioners from just about every streamer and broadcaster worldwide, but also the producing community who want to hear from them and sell their shows to them.
The three-day event kicked-off with the much-anticipated Studio21 Drama Series Script Competition session, which saw the six finalist writers pitch their shows live to the conference. Following deliberation by the judging panel, who had all read the finalists' pilot scripts and written pitches, the winner was announced at the C21 Drama Awards a few days later, receiving a £10,000 prize and development deal with Studio21 – a nervous wait for the writers! Read about the Script Competition Winner announcement here. 
For projects at the next stage of development, there was the C21 Drama Series Pitch session. From over 50 submissions from 23 countries, six projects were invited to pitch at Content London. The finalists, from established drama creators worldwide, were bidding to attract additional finance and coproduction partners to take their project to the next level. The winner, comedy-drama 'Video Nasty' from Irish production company Deadpan Pictures (Producer: Ailish McElmeel), receives a £30,000 marketing package to support development.
The 'Writers To Watch' session gave a valuable insight into the journeys so far of breakthrough writers Bec Boey, Nancy Harris, Nathan Foad and Quoc Dang Tran. All attested to the importance of writing spec projects they were passionate about, rather than worrying about writing what they thought producers were looking for. Authenticity and a connection to the material, even when brought on to work on someone else's idea, was another common thread among these talented writers now getting serious traction in the industry.
In a similar vein, almost all the commissioners interviewed in sessions across the week, said some version of 'we don't' know what we'll love until we see it'. Few were prescriptive about the kinds of stories they're particularly looking for, though they may have a tone or style that best fits their channel/platform identity.
Netflix (Head of Global, Bela Bajaria) was clear that its strategy is to commission shows specifically for the territory it's being commissioned out of, with each territory having a dedicated commissioning team which doesn't require a greenlight tick from the US team. Their 'local stories told authentically' strategy works on the expectation a show plays well in its home territory and the hope that some of those break-out to become global hits.
With every streamer (global and local) vying for audience by focusing on creating a USP or unique identity, there is a commissioner out there for just about every shape, size and tone of story imaginable. While StarzPlay (Superna Kalle, President of International Networks) want shows that are 'more adult' ("think of us as late-night tv"), UKTV channel play Alibi (Philippa Collie Cousins) wants "softer crime drama with twisty-turny plots and humour."
Meanwhile the BBC's Piers Wenger told conference that they are interested "primarily in telling British stories for British audiences" and though they may be open to stories from outside the UK there would "need to be a British element".
Germany's ZDF (Simone Emmelius, Senior VP International Fiction, Co-Production and Acquisition) told conference that while crime drama still plays well for them, they're looking for a broad genre mix including sci-fi, thrillers and drama, though perhaps in a "lighter tone" than the Scandi-noir of a few years ago.
There was a strong sense from the screen-drama community that there is no slow-down in appetite for content, which is great news for all us storytellers!
All sessions are available to watch on-demand for Content London delegates and C21Pro subscribers here.
---