The BBC Comedy Festival rolled into Cardiff for 3 days last week, bringing with them a host of great panel discussions on the craft, big-name interviews (Jesse Armstrong, Sharon Horgan) plus a very funny (you'd be worried if it wasn't…) commissioning briefing session. Script Angel's Hayley McKenzie shares her key takeaways.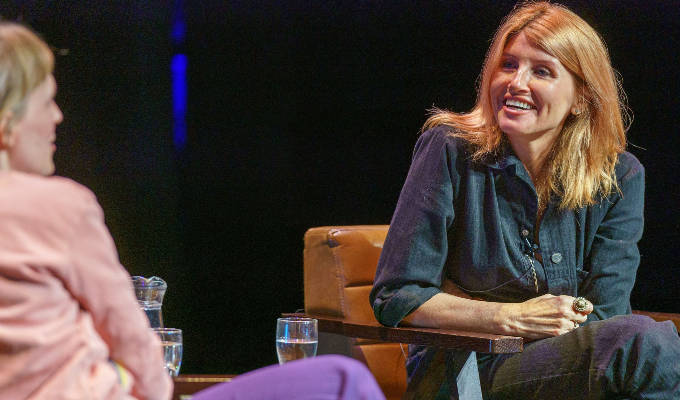 BBC Comedy Commissioning – TV
The BBC Comedy Festival kicked off with a nuts and bolts, very funny, run through of the BBC Comedy Commissioning landscape. So you're a producer with a great comedy project – how do you get the BBC interested? The BBC Pitch portal is the place to go, whether you're an established production company or a newbie producer.
Note:  if you're a creator without a producer attached yet, check out the BBC Comedy info on how they work with new voices. 
BBC Comedy view projects in four categories: Broad, Family, Reputational, Young ( 16-24). Right now they are over pitched Reputational shows and under pitched Broad and Family shows.
Although linear and over-nights are still important, there is now much more focus on how a show performs on iPlayer over a longer period of time. Comedy, more than any other genre, delivers repeat viewing and big audience reach over long periods of time. For example, there were 11million hours of My Family (which hasn't had a new episode since 2011) viewed on iPlayer in 2022!!
Here's how they view / measure success:
Broad = reach (over a month, not overnight)
Reputational = awards, breaking new talent
Young = high volume on iPlayer, bringing in new audiences
Family = volume, co viewing
They're also over-pitched single protagonist shows which are challenging to sustain for multiple series. They've got a lot of shows in development and production set in schools and with a crime element, so aren't currently looking for more of these. They are still looking for more shows set outside of London, told authentically.
BBC Comedy can also co-produce and co-finance shows with other partners.
BBC Comedy Commissioning – Audio
The brilliant Julia McKenzie wants to build on the BBC Radio Comedy long established track record of developing shows and talent that transfer to tv. She wants great content that works for her in audio but sees it also as a skills academy and talent pipeline for tv.
BBC Comedy Audio has two commissioning rounds per year and publishes a brief in advance. They are definitely on the lookout for broad shows that could be a co-commission with TV with a view to a transfer.
Sharon Horgan – interviewed by Holly Walsh
Sharon shared the creative development process on Bad Sisters. Although they were adapting the Flemish show Clan and so had a basic story to work from, they still needed a writers' room with ten writers working full-time for a month, just to break the story as they re-imagined the show set in Ireland. Sharon wanted to be sure she was putting her own unique spin on the material.
How did Sharon get started in comedy? Like many narrative comedy writers before her, she honed her craft writing on sketch shows and writing material for other, more established performers. She then spent six months writing a spec pilot script for Pulling with her then writing partner Dennis Kelly.
What's her writing and development process? Sharon spends lots of time developing her characters, to the point where they could each exist outside of the world of the show she's creating. She gets all her ideas down and then starts to outline story beats – this can run to as much 12 pages (!). And all of this before she opens Final Draft and starts a script.
When she starts scripting, the story might change, but the outline gives her the building blocks to work from. Throughout this process, everything she's writing (character descriptions, story outline) has to be funny.
"Everything you're writing – character descriptions, story outline – has to be funny."
She's also a big advocator for getting people to read her stuff early and give her feedback.
And now that Sharon has her own production company Merman, what makes them pick up a project written by someone else? The script has to be exciting, to feel like nothing else she's read. That could be the way the writer expresses themselves, their angle on things. Whatever it is, it has to feel singular.
Jesse Armstrong – interviewed by Holly Walsh
Succession is a huge hit – but what exactly do you do as the Showrunner? Although a more codified role in the US than it is yet in the UK, Jesse still thinks there is room to create the role to suit you. You're definitely the creator and head writer. You'll certainly be overseeing the edit and most likely be responsible for hiring the directors. Beyond that, you can have creative oversight, or not, of whatever parts of the show and production process you want.
So what was the development process on Succession? Jesse wrote the pilot script, which got shot and picked up for series. At that point, he put a writers' room together – eight writers, working full-time for five months to break the plot for the first series.
Jesse's view is that writers' rooms are not great for creating shows from scratch – he already had the pilot which established the story world, all the characters and the parameters of the show. Nor are they the space where you actually write the scripts.
"Writers' rooms are not for creating a show from scratch. Nor for writing the scripts"
But they're brilliant for brainstorming stories for all the characters and shaping those stories. By the end of the first month he always aims to have the broad shape of the season, plus lots of little fun stuff that they've generated (scenes, bits of dialogue). The rest of the time is spent creating detailed outlines for each episode.
After the writers' room period, Jesse assigns specific episodes to each writer – though not every writer from the room will get an episode – and everyone goes away to write their episode script. It's then lots of drafts and rewriting, right through to shoot.
The show is improvisation friendly, partly to generate great material, but also because it infuses the shooting day with a sense of play and invites the cast and directors into the creative process, making it more collaborative. Jesse will also write a bunch of alternative gags / exchanges the night before for the next day's filming.
He stressed how important it is for the writer to be on set – it's your work and you deserve to be at the centre of it.
Holly observed that despite the many helicopter scenes, in most episodes Jesse seemed to force his characters into smaller and smaller spaces (a karaoke bar or mausoleum). Yes, Jesse noted, comedy always works better in small spaces.
So how did Jesse get to the point of a hit show like Succession? Jesse (with then writing partner Sam) wrote lots of spec narrative comedy half hour scripts. But his first paid writing gigs were in kids tv, including My Parents Are Aliens.
"Seek out spaces where stuff gets made, including kids tv and soaps, to learn your craft."
It was a great experience and he urged new writers to seek out spaces where stuff gets made, including kids tv and soaps, where you get paid and get to learn your craft.
Kayleigh Llewellyn – interviewed by Nerys Evans
Following the huge success of her own original series In My Skin, Kayleigh has gone on to write for other big shows including Killing Eve and Chloe. So how did she break in?
Kayleigh had written a spec script (for a different show) which won the BAFTA Rocliffe script competition in 2012, garnering the attention of Shane Allen who was on the judging panel. He commissioned the first two scripts and although that show didn't get any further, it was a great learning experience.
She was selected as a BAFTA Breakthrough in 2019, by which time she had started to work on In My Skin. She'd been inspired by advice that 'The thing you think you need to hide deepest is the key to your creativity". So Kayleigh did just that, crafting a one-pager for her idea that was raw and honest. Her advice to new writers:
"Pour yourself into it"
Originally conceived as a 'comedy slice' short film, Kayleigh got interest from several producers, and chose to work with Nerys because she felt that she would 'look after me and put me at the centre of the process'.
Kayleigh believes strongly that the writer should be involved in the creative process of their own work, and she and Nerys met potential directors together. She also tries to make sure she's on set. Partly because it makes her a better writer, and also so that she can rewrite dialogue if it's not quite working on the day.
Kayleigh also spoke about the importance of finding a good script editor – not just in terms of skills but also someone you feel you connect with creatively. They should make you feel excited to get back to the script and address the notes.
On the subject of dealing with notes, especially ones you don't agree with? Kayleigh said how important and helpful it was to verbalise why you don't agree with them. It forces you to get clear about your creative decisions.
And a plea to producers – please also tell me what is working! Not just for my ego but it helps you to lean into the good stuff they are responding to. Just like in stand up where you follow the joke.
Before In My Skin got commissioned, Kayleigh had made a short film which gave her the opportunity to write on BBC1 drama series Casualty. It's "where I learnt my craft so if you get the opportunity to write on a show like that, take it!"
Writing on other people's shows can be a bit like a boot camp, but it makes you a better writer.
And if your writing is crap, don't give up, have another go!
Submit your work to script competitions. They're great for giving you deadlines. And if you get selected, it can make your career. But don't judge yourself if you don't!
Ultimately, it all begins with you writing a great spec script.
---