Drama commissioners from ITV, BBC and Channel Four outline their development agendas and commissioning strategies. How are they are coping with the challenges of 2020, changing and adapting priorities, and finding new ways to tell stories? BBC's Piers Wenger, ITV's Polly Hill and Channel Four's Caroline Hollick spoke with Stephen Armstrong.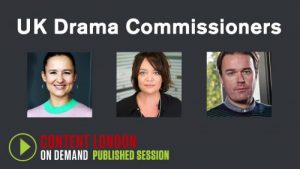 What has 2020 looked like for the UK drama commissioners?
Reflecting on 2020 Wenger noted that lockdown has seemed to mean audiences increasingly seeking bold and original content and had accelerated interest in the BBC's on-demand offering.
ITV had also seen an increase in viewership, with audiences hungry for content and a number of shows (Quiz, Des) delivering large audiences. Since the resumption of filming ITV now has twelve shows shooting before Christmas, which provide content for 2021, and Hill revealed that they had just started to commission again.
Hollick observed that the pandemic had forced a really positive democratisation of the commissioning process; "I'm based in Leeds and I used to have to spend a lot of my week in London. The out-of-London indies now feel like everyone's on a level playing field."
She also noted that Channel Four had been hit hard by the drop in advertising revenue meaning they had to move shows that were meant to air in 2020 into 2021 and that's had a knock-on effect into commissioning opportunities into 2022. Like Hill at ITV, Hollick is also now commissioning again looking for shows to air further down the line.
Has the pandemic meant that you are looking for different kinds of drama? What are your commissioning strategies and have they changed?
Channel Four wants drama that shines a light on who we are today and feels like it's saying something new. Drama with a strong voice, that is challenging and asking questions. Hollick is particularly looking for high-impact four-parters and for shows in very different tones; from Deadwater Fell to Adult Material.
ITV is looking for mainstream, populist content, for big event pieces and is even more focused on what ITV's offering to its audience is. They are looking for shows that appeal in a big way and that cross-generational audiences want to watch live, like Des or Quiz did. More shows that do that outside the crime genre are always sought-after.
The BBC is also looking for shows that bring the audience together and can play big on linear. But Wenger is also looking to make shows to serve particular parts of the audience on both linear and on-demand. They can commission to appeal to specific demographics and super-serve their needs.
The BBC wants to expand its offering to the BBC3 / YA audience and noted that it's also important that they do it from a talent development point of view. Shows like I May Destroy You and Normal People had really resonated with that audience but then "we won't have another offering like it for six months. Where I need to get our slate to is being able to regularly offer something for that audience."
How do you balance telling stories for a British audience with the pressure to serve an international audience to bring in that co-production financing that dramas increasingly depend on?
Wenger said; "We always start from wanting a show for the British audience. We find that the more distinctive and authored it is the more appealing it is to those US platforms. Because they're also looking for dramas that feel real, authentic and potent and no matter where that is set audiences internationally will feel the same way."
Hill noted that "some shows don't need big budgets that require co-production financing. Others do and the producer can do that by finding a co-production partner to finance up-front or they can sell the show afterwards, like White House Farm did with HBO Max."
Hollick said; "We have good relationships with US streamers who share our sensibility. We had a co-production deal with HBO Max on Russell T Davies's new drama It's A Sin and we both wanted the same show – they didn't ask us to make it feel more international in some way."
What are you looking for next?
Hollick; "I want people to send me things that I worry might get me fired if we commission it!"
Hill, for ITV; "familiar crime genre with a genuinely fresh take and finding a series outside of crime that has enough story to grab an audience quickly and keep them hooked."
Wenger, the BBC is "looking to push into other genres, like horror and supernatural; a British authored version of a show like The Boys."
All sessions from Content London on Demand 2020 are available to C21Pro subscribers.
---