Why You Should Write for Radio Drama
Radio drama presents incredible opportunities, but when you're heading for a niche market, you need to lead with your passion, writes Jay Harley
Lead with your passion
Many writers hope to make their big break in authored, high-end, 'proper' drama. They may plan to get a few broadcast hours under their belt first – using continuing drama, theatre or radio drama as a stepping-stone along the way. To those writers I wish good luck, but radio drama is far more than a stepping-stone.
Some writers grew up listening to The Archers or came to radio drama because of the incredible writing and performing talent it attracts. These writers are passionate about radio and they appreciate the massive scope of the medium and dream of hearing their idea on Radio 4. If this is you, please keep reading.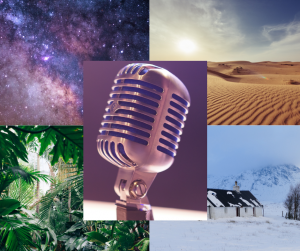 As a former producer of Radio 4 drama, please trust that we can spot the difference a mile off. We know someone who's passionate about writing for the most expansive of dramatic forms, from someone who just wants a paid commission for their writing CV. We know, and we fight for you tooth and claw when we find the talent we want to champion for radio. You need to get a producer in your corner.
So how do you do that?
Know your market
BBC Radio 4 is the home of radio drama in the UK, and the single biggest broadcaster of this genre:
"We broadcast drama at least twice a day, every day, to audiences of around a million passionate and engaged listeners." ~ BBC Radio 4
A regular listener to the channel will have their favourite writers and producers and might be attracted by genre exemplars, period pieces, cinematic serials or one-off afternoon dramas that sparkle with originality. You need to be listening, but you also need to retain your unique voice.
The biggest mistake made by new-to-radio writers, is trying to write something that doesn't reflect your own voice but reflects what you think Radio 4 drama sounds like. Listen broadly, but then step away, and pitch the story you want to tell, not a parody, pastiche or even an homage – be original.
The scope of audio drama is infinite, but many writers are bounded by the limits of their own imagination. So really think about the form – why audio, what can you do here that you can't do anywhere else? My first radio sitcom was set in a taxi office, but my second was about aliens! The first radio drama I had commissioned as a producer was about time travel. I've also written audio stories for the Doctor Who and Torchwood universe. There is no medium with more expressive potential (and on a feasible budget) than audio.
This is why so many books are adapted for radio. You can preserve the author's voice here, whether you use voiceover or not. In films, slapping an authorial voiceover across the visuals really negates the point of adapting a book in the first place. But as a writer for audio, your words can make a devastating impact. Then consider that Michael Sheen, Catherine Keener, Andrew Scott, Alison Steadman and every other acting talent you could name continue to return to audio drama, podcasts, radio comedy, audiobooks, time and again.
So how do I find a producer?
When I was looking for writers for Radio 4, I was excited by the daunting task of trying to find as yet undiscovered talent that was packing the punch the commissioner required. Producers seek out playwrights who are bedecked with awards, winners of talent initiatives and diverse writers already creating buzz across other media.
I remember meeting a play writer I was really excited about and approached her about radio drama. She said "Oh, loads of people have been asking me about that". Of course they had. There was a queue of eager radio producers keen to snap her up, while she was concentrating on TV opportunities. Writers will be sought-after on the basis of what they have already achieved. Writers with no credits, cold-calling producers, are less likely to be an equally exciting prospect.
You have to convince your producer that you are amazing, because they have to then convince the commissioner about you, alongside all of their other writers. The commissioning process is wildly competitive. I worked with established writers who had completed several drafts of treatments, who still didn't make it to a commission. It's so, so tough, and you will need a dazzling biography, for your producer to be able to excite the commissioner.
Be ambitious
Writing for radio is very specific and if a producer seeks you out, they will help you get good at it.
If you don't have a producer in your corner, you need to listen to a lot, read all of the radio scripts in the BBC Writers Room archive and get good at telling stories in audio-specific dramatic ways. Can you extend or expand the form itself? Have you heard any interesting sound art in binaural forms that you think could be made narrative for radio?
It sounds like a big ask, and it is – but you need to stand out. Your play about two students on their couch might not, but a surround sound piece about two gamers caught in a VR world might? You need the story to be about something, you need captivating characters, you need to really polish your dialogue skills and you need to answer the question "Why radio?".
Know the productions you love, find out which producers make that kind of show, then do something brilliant that puts you in front of them. I worked in radio drama in Cardiff, yet the writers who contacted me to see their plays were all London-based. Do your research, find local producers and invite them to your play, readthrough or screening. Show them the work you have already created.
If you really, really want to write for radio drama you can. It won't be easy, it's competitive and getting your foot in the door will require effort and probably several knock-backs. But if it's what you really want, you can make it happen.
---