Working from Home – A Writer's Guide
Working from Home: A Writer's Guide – Guest Article by William Gallagher
Writers used to be told they were lucky that they could work from home, sit in their pyjamas, and write whenever they felt like it.
Now that everyone is being forced to work from their homes, they're finding that of course it's hard, and that of course the work has to be done. Rather than sympathising with us, though, they now say we're lucky because we're used to it.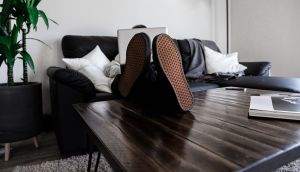 No one is used to this. The fact that you may already work from home does not help you when your work is exploding. Writers have fragile incomes and we have no colleagues on the next desk to be with. And the fact that we do know how to use Skype doesn't feel like a big bonus.
Except actually, yes, that kind of thing is a help. That knowledge and those skills you've unconsciously developed over writing from home is useful. This business of writing from home is one thing you do know if you've done it for a while.
If you haven't, if this is your very first time working from your own home office, then still you do have an advantage because of your writing ability. The natural way you have of pace and rhythm in a script or a story, you can use that right now to help you through this.
Starting with how you shouldn't beat yourself up.
No matter what we're all being told, this is not working from home, it is surviving a virus outbreak. Companies don't really expect that their employees can do everything from their living room, nor are companies getting enough business in that they need to. Nobody's taking it easy, but nobody can expect you to be more productive than you are.
That said, get dressed.
You could sit around in a dressing gown. And three days into the lockdown, a friend told me that this is it, she's decided, she is throwing her bras away. You must be comfortable, you must stop letting underwire stick into you, you've got to relax. But get dressed nonetheless because it makes a difference mentally.
So does human contact. Writers may be on their own, but they also tend to write for a lot of different producers and editors, so normally we do have quite a bit of contact. Then, too, writers have the Writers' Guild or the Society of Authors, we have unions and groups and we can reach other writers who are going through this in exactly the same way we are.
Even so, you'll find a benefit from choosing exactly when to be in touch with people.
Switch off your email, switch off Skype and Zoom and FaceTime, mute your phone, turn off Messages and WhatsApp and Twitter. If it can bleep at you, turn it off. If it's something that can tell you just how bad things are or just how badly world leaders are letting us down, definitely turn it off.
For now. For the next hour or so, have nothing but Final Draft or your word processor of choice, and write.
Then check in on other people. Check your emails, send someone a message, phone a friend. You can't control when they're available, but you can decide when you are. Make yourself a schedule, even just roughly in your head, so that you have patches when you are working and times when you are not.
Not working is extraordinarily important. This thing that people used to say about writers being able to work when they like is nonsense for a dozen reasons but maybe most of all because we don't actually stop. Ever. When your office is in your home, then even if you're not a writer, you go back to it, you go back to the keyboard, you find it hard to keep away.
Try. Try harder. Pick an end time for your day and stop then. Stop at that point and do not work again until tomorrow.
Or since you are a writer, since you're never going to listen to anyone telling you to stop, at least write something else. Whatever you're on, whatever the deadline, after your working day is officially done, write up that idea you fancy doing just for yourself.
Those extracurricular ideas are going to be the ones that get made next and it is good to be preparing yourself for when things return to normal. But more importantly, you have the ability to create an entire world and decide what goes on in it.
In that one respect, maybe writers really are lucky.
William Gallagher is Deputy Chair of the Writers' Guild of Great Britain. He writes 'Doctor Who' radio dramas and is currently producing 58keys, a YouTube series for writers who use Macs, iPhones and iPads. You can find him on Twitter @WGallagher
STAY CONNECTED. Join the Script Angel community and connect with like-minded professional and aspiring screenwriters:
Sign up to the weekly newsletter. You can unsubscribe at any time.
Join the Facebook Group.
Follow us on Twitter.
---