What Happens When A Producer Reads Your Script?
Jane Dauncey is a BAFTA-winning creative drama Producer, Executive and Series Producer. She has initiated and produced award-winning drama for the BBC, Channel 4, Sky and ITV. Here she shares with us what happens when a producer reads your script.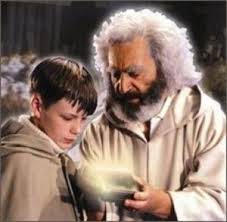 Unwrapping the Christmas Present
When I settle down to read a script, it's with a sense of anticipation, like opening a present. I hope for a story that will carry me away, keep me turning the pages, move me, surprise me and leave me thinking long after I've finished.
I want to care. I want to smile at or worry about the people in the story. I want there to be something at stake, I want there to be a meaning that will make me see something differently – through the writer's eyes. I want my present to be a cashmere hoodie in a subtle colour.
So the good news is that producers aren't looking to find fault. They really want to get excited and happy.
Earth, With a Bump
Next, practical considerations start to crowd in.
A producer is first going to ask themselves whether:
• they can see this getting shot in perhaps two to five years
• they have the time to work with it
• they have the money to option the work, to travel and lobby in the right places
If they belong to a company, they are probably still operating within a development budget and that company will have a slate – does it earn a place on that slate?
Is it ready to attract the support of the person above them in the food chain?
Into the Marketplace
Is there a clear market for it?
TV: It's wonderful to be a ground-breaker, but in TV it can make the obstacle course harder. Commissioners and broadcasters know the spaces they want to fill on their services. They usually publish their needs.
And TV producers, in turn, will keep up with these briefings and use their contacts to get ahead of what everyone else knows. A producer is thinking, 'yes, great project, but who do I take this to?'
It's encouraging when a writer is also aware of what an audience is enjoying and what each channel/outlet specializes in.
Features: With films, there are no schedules to fill, but cinemas and distributors want to know that the story will look attractive on a poster, that people planning a night out won't be disappointed.
That's the root cause of the obsession with genre. If your genre is clear, a producer knows who the audience is. If it's not clear, the task is again more difficult. A film must sell tickets. (Or satellite dishes, or subscriptions)
When a producer reads a script they will also be wondering whether it is future-proofed. If it takes two or three years to get to screen, will it still look current? Is the writer not just up to date, but thinking ahead as well?
A smaller thing: is it an easy show to pitch? It's not a deal breaker but the story of a working class boy who longs to be a ballet dancer is easier than a rites of passage story about a man coming to terms with his mother's death. It might be great – but it's going to be harder work to sell.
Does the writer get it?
As a producer, I'd also look at shootability. Obviously, whether it's low, middle or high budget is of interest to me. But also, whether the writer is in control of what they do. Scripts full of snowstorms or rainfall, hawks drifting across the sky, timid deer at the edge of the forest suggest to me a writer who has never stood in the middle of the night trying to shoot something. Ever tried working with a stunt deer? No, I haven't either, but I have dealt with stunt pigeons, city foxes and a supposedly trained rabbit and it was painful.
I love it when a writer's story is visually evocative and exciting. But I'm also happy when I know the writer understands what they are asking. If every scene is in a dreary office, that's because they WANT a claustrophobic atmosphere. If there's a whispered chat during a school assembly, that's because it has to be there. Not because the writer didn't know it'd be just as good set by the wheelie bins and I don't need 60 extras and their chaperones hanging about.
Then producers (being idiosyncratic but only human) will also be asking themselves whether they'll enjoy working with this writer. Is it going to be a long, happy and worthwhile relationship? They may work with you on a short, but they are hoping that it will be a feature or a series next. They are investing their time and probably money in you and they hope it will reward them.
Do I get the writer?
It's important to understand that a producer is playing a long game. If your script gets rejected, they may be thinking, 'right script, wrong writer' – i.e. it's great, but they can't sell it with you attached. Maybe you aren't a big enough name. Maybe your technique isn't good enough, though your idea is fantastic. (It is sometimes possible to sell the idea and to stay involved.)
A more positive rejection comes when it's right writer, wrong script. Your story has been done before, or it isn't compelling enough. But the producer likes you and genuinely wants to see what else you can do.
Whatever the reason, remember: producers are all individuals and our tastes and strengths vary. Some are great on legals and finance, others on story and script. Some have better connections with a commissioner at the BBC, others with Sky. Some lap up spy thrillers but are totally turned off by comedy drama. So one rejection does not a bad script make.
Some – it has to be said – are liars and bluffers. Your antennae will tell you if something feels wrong. Listen to it.
Most producers, however, are empathetic creative people wanting, just like writers, to use their skill to tell fantastic stories.
You may also like our article 'How To Make Friends and Influence Producers'. 
---