How to maximise your big, ambitious film and TV specs with smaller, producible pieces – your stepping stone scripts. By Jay Harley
I have read hundreds, if not thousands of spec scripts over the years. I am impressed by the vision and the scope of every writer I've read. Whether you're creating sci-fi universes, or authentic worlds for domestic drama or comedy, you are putting yourself and your talent out there; that is your job.
In recent months, I have been working with my gorgeous and diverse Script Angel writers and a broad and varied array of spec scripts. We cover film, TV, radio, drama and comedy, plus more genres than Netflix would know what to do with. While giving script notes, I also help writers take a broader career view. That is my job.
Every step counts
When you start showing around your beautifully polished script, you'll garner many questions about the work, but I have just one question. What is this script for?
Yes, it shows off your unique writing voice, your ability to create characters and worlds and to tell fully-rounded stories, with intense emotion, humour or suspense, as applicable. It might be good enough to be placed in one or more industry-recognised contests or schemes and that's great. But if you're hoping that the script will be produced, you'll probably want to have a number of other ducks in a row first.
Take a chance on me
Whether you send your script to a contest, agent or producer, you are asking the reader to take a chance on you. The industry is at once looking for bold, new voices, but at the same time is very risk-averse. There are great writers out there, who get a lot of work, because they are a safe bet. You are probably a very unsafe bet. Your script might be truly brilliant, or it may at least have a brilliant idea at its core. However, it doesn't demonstrate your ability to put bums on seats and score stellar viewing figures.
When an agent or producer asks "What else have you got?" they're asking first to demonstrate that you're an idea machine and that you'll be able to capitalise on any successes with more projects. They're asking second about whether you have produced or producible work. Yes, we care about the labour of love script that's been months in the making and won a couple of contests, but we're better able to see what you can do, if we can literally see what you can do.
I'm not saying don't be ambitious with your spec. But if you want to best showcase your work, you'll support that amazing spec with a writer CV or a reel of shorter projects, which have been or will be made.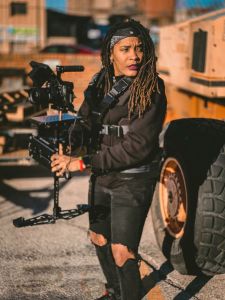 Showcasing your work
When I was that producer, looking for bold, new voices, I attended dozens of events. I was out every night at plays and screenings, meeting writers and swapping details. I did read the occasional script from people I met at events, but mostly I was chasing the writers of things I'd already seen. Having an amazing short play or even a sketch, a short film or even a script reading gives people a chance to really see what you can do.
Obviously, you can't all put on an Edinburgh show, it costs thousands of pounds, but can you get involved in a local scheme? Dirty Protest has been putting on short plays by new writers for years and as a producer I always courted those writers of plays I had enjoyed.
Or can you host your own reading and invite anyone and everyone whose email address you can find. In film, there are a few hotly-contested shorts funding schemes, but honestly if the script is great, you can attract a brilliant actor and it will withstand a low-budget so you can make it yourself.
You want to focus on making your spec stand out and be the best it can be, but all that effort could go to waste if you're not strategic about your portfolio. And, get this, if you're able to get something made, whether live or recorded as audio or video, you're going to learn so much. The experience here is absolutely invaluable and, hopefully, you'll also have a blast.
It might just be that you write a script for a no-budget, student short. Maybe the film won't be quite Cannes-ready and maybe you'll deliver the script and just let them do their thing, without worrying about how it turns out. This, in itself, is incredible industry practice for letting go of your precious darlings and moving on to the next idea.
Collaboration
Perhaps you'll get in a room with the cast and director of your play and work collaboratively and learn more about your characters and even your own writing than you'd ever imagined possible. These experiences, positive and negative, are waiting for you. They won't be found at your desk, as you slave over perfecting your masterpiece.
For every piece of advice there are exceptions to the rule. There probably are people whose first incredible script has been picked up and produced. That's fantastic. Assuming you're not the exception, ask yourself what your script is for, what it can do for you and then ask how you can best serve your script. Getting other stuff made, honing your craft, could be the answer.
Perhaps you'll meet a great gang of mates while making your first short piece and you'll go on to work together for decades. Perhaps you won't, but you might learn about yourself as a writer and how you want to work.
When someone finally says they love your spec and they want to produce it, you'll be able to draw on the experience you've accrued. You will still be exhilarated and terrified, but you'll know what you want from them and how to deliver what they want from you. And you will have so much fun.
---