Screenwriter Interview – Jed Mercurio (Part Two)
The creator behind hit tv drama Line of Duty, the brilliant Jed Mercurio, sat down with Script Angel's Hayley McKenzie after the third series aired in the UK, to chat about the show and his screenwriting process. In the first part of this screenwriter interview Jed talked about the process of developing this phenomenally successful series. Here in part two, Jed discusses how he deals with notes, his process for developing new ideas and the challenges of writing science-fiction.

Hayley: As well as being the screenwriter, you're also an Executive Producer on many of the shows you write and create, so you could presumably push stuff through. How do you get fresh eyes on the work?
Jed: Occasionally we'll have a difference of opinion but we tend to just talk it through. If people are really opposed to something, it's normally not a black and white thing, it's normally a sense that something isn't working or it could be better, and we just keep talking it through. So the editorial process is that at the start I have a meeting with Simon Heath and our script editor Priscilla Parish, and just say roughly what the series is going to be in terms of the launching off point. Then when I deliver the script they come back to me with their thoughts and we get into the practicalities of it.
Hayley: How much time do you spend developing your characters once you've settled on your precinct?
Jed: I don't develop characters separately from the story, they go hand in hand. I think about the kind of character who will fit the story.
Hayley: Can you talk a bit about your writing day. Do you do set hours?
Jed: No, I tend not to beat myself up about that. As long as I'm on schedule for the week, that's ok.
Hayley: When you're intensively focused on one project if you've got a greenlight, how much time are you able to invest in other ideas?
Jed: Right now I'm totally focused on writing the fourth series of Line of Duty, but when I had finished my writing commitments on the third series I was writing other things. Even though at that point I already knew we'd be doing series four, I wanted to get some other things into development so I worked on some pilots of scripts for new series that I then delivered. None of them have yet been greenlit, but none of them have been killed yet either. So once I've finished writing the fourth series of Line of Duty I'll go back and do more work on those based on the feedback from the broadcasters. And maybe if I'm lucky one of those might be greenlit.
Hayley: When you knew that you had a little bit of time to develop other ideas, where had those ideas come from? Do you have an ideas notebook?
Jed: No, they're more things and areas that I'm interested in. I will kind of note down any ideas but usually what happens is that they'll stay with me. I'll be thinking about them and potentially reach a kind of threshold point where I think, that's going to work and I want to do it – I want to make that programme. Then it's a case of having to find someone interested in working with me on it; a production company or a broadcaster. And not always do they respond positively. Sometimes I have ideas and no one is interested, so I have to drop them and come up with something else.
Hayley: What kinds of shows did you love watching growing up?
Jed: My favourite show in my early childhood would have been Star Trek, then I started watching things like Hill Street Blues and St. Elsewhere.
Hayley: You've written science-fiction yourself, with Invasion: Earth, would you like to do more science-fiction?
Jed: I would, but I think that it's a very difficult sell in the UK. I would tread very carefully. If there was a science-fiction idea that I really wanted to do and I believed there was a way of doing it that didn't fall foul of the tv landscape, then maybe I'd do it.
Hayley: Do you think that there are more opportunities for science-fiction shows on channels like Netflix and Amazon?
Jed: I'm not sure that there are more opportunities there but I think that they're probably a safer environment. I think that the terrestrial channels feel that they need to have a very broad appeal. Doctor Who has kind of reached the point, where it's no longer a sensitive test for audience interest in science-fiction. Like in the 1980s where Margaret Thatcher had been prime minister for so long that asking who the prime minster is, was no longer a sensitive test medically for dementia. While it's great that Doctor Who remains a successful and admired show, I don't think that it helps us in our understanding of how you can make science-fiction, get it on air, and make sure it's supported by the broadcasters. I think that's an area where to be honest I don't have a good answer.
Hayley: Your *first show was Cardiac Arrest, and at that stage you were a working doctor and hadn't been screenwriting at all. Did you learn the craft of screenwriting by writing that show?
Jed: Yes, I was lucky that I was kind of given an apprenticeship by people who were really invested in it. The fact that they were coming back to me with notes on the script and they wanted to make them good so that the thing got made, meant that people who do that for a living were really focused on that shared goal. It's different from writing in isolation and sending scripts off and getting rejection letters or maybe getting some encouragement, which is nowhere near as intense or focused or detailed, so that meant that it was a really steep learning curve for me. We were in development for a couple of years on that show so there was plenty of time for me to understand the identity of the series and how to write the scripts. Then when it went out, because it was fortunately successful I was able to keep progressing on the second series. I become more serious about storytelling and I read books about it and went on courses. I didn't slavishly follow those things. There were some things I agreed with and some things that I didn't find helpful, but they did give me better analytical tools in terms of storytelling and judging my own work, in the way that when I first started the people who were involved had better analytical tools than me to be better able to say why something wasn't working.
Hayley: Cardiac Arrest, which had a lot of comedy in it, was followed by The Grimleys which was a very warm comedy piece. Since then your work (Bodies, Line of Duty, Critical) has been tonally more serious. Which is the real Jed?!
Jed: I suppose as a writer I'm probably more comfortable writing the kind of social realist precinct dramas that I have been writing since The Grimleys. I think that's probably what I'm going to carry on doing. But I do love comedy and when I was writing Cardiac Arrest I tried to get a lot of humour in but I found that a lot of it got cut. We shot it, and it worked, but then it would get cut; to make the running time of the episode work the humour came out, so I just felt a little bit frustrated, and that made me want to write comedy, and get all that out of my system, which I kind of did with The Grimleys. I certainly watch a lot of comedy and I'm probably not as troubled as you might imagine from what I write in my drama.
Hayley: Could you be tempted back into comedy writing?
Jed: I'd do it if it was the right thing, but I think that it would be a tough sell for anyone to commission me to write a comedy.
Hayley: Have you created a screenwriting identity?
Jed: I think that people would have more confidence in commissioning me to write a thriller or a precinct drama rather than to write something that was different from what I've been writing in the last ten years.
Hayley: Finally, what advice would you give to new writers?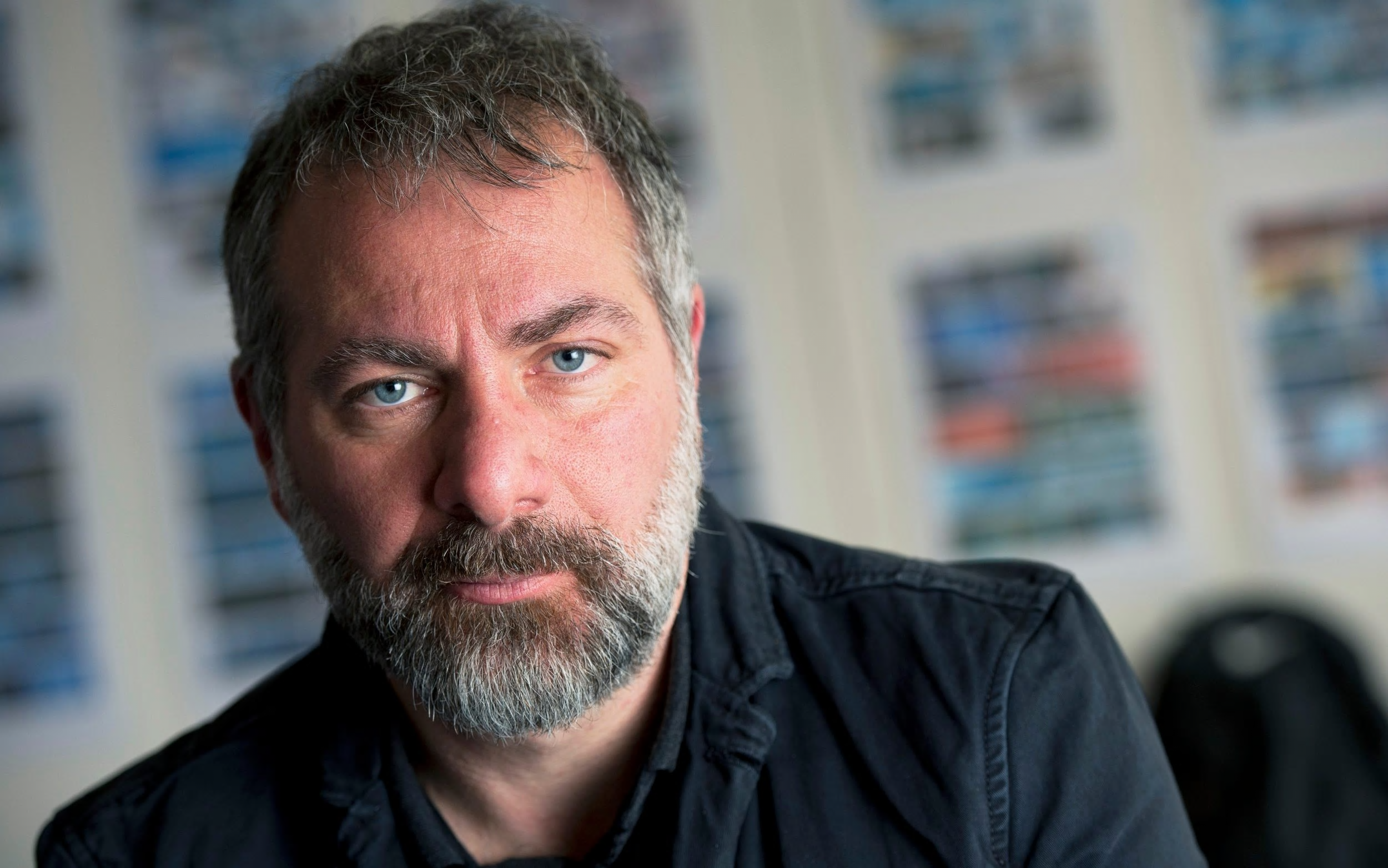 Jed: Watch a lot of tv and write a lot. Don't keep just going with the one idea and polishing it endlessly. Write an idea, then get it out there. And if people love it, then great, and if they don't then be prepared to move on and come up with the next idea that's better. Keep writing and keep moving forward.
A huge thank you to Jed for taking the time out of his busy schedule to talk to us.
*From Doctor to Screenwriter. – Jed talks about how he came to screenwriting and how his breakout show Cardiac Arrest came about in this short interview with BBC Writersroom.
---