Nick Mohammed and David Schwimmer – Screenwriter Interview
David Schwimmer and Nick Mohammed, stars and creator of Intelligence (Sky) talked to Boyd Hilton for the RTS about how the show was created and made.
Created by Nick Mohammed, Intelligence is a workplace comedy set in the UK's GCHQ—a kind of weedier, geekier version of MI5, where they tackle international and domestic Cyber Crime from a desktop. But when a pompous, maverick NSA agent (David Schwimmer) comes over from the U.S. to join the team, he enlists an inept and tactless computer analyst (Nick Mohammed) in a power grab that threatens to disrupt the team's ability to combat cyber terrorism.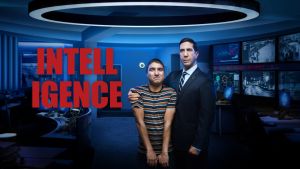 How did you develop the characters and story world?
Nick: The idea of a workplace sitcom, focused on the accessible office encounters that we're familiar with, juxtaposed against the seriousness of the backdrop of national security came first. But it came hand in hand with the notion of global shared intelligence so the idea of a culture clash between the way the Americans work and the way the British work was also fundamental to the idea.
And because David and I had met and worked together before and really enjoyed improvising together, so it felt completely natural to work together on this. I remember telling David about the project really early, when I only had a one-page outline for it.
David: My character Jerry was certainly inspired by Trump but also by all the white men in power who have been enabling him. But it was really important to remember that they're all just flawed human beings. It was important for us from early on to find ways to make Jerry sympathetic. What we landed on was that a lot of his need for power and his narcissism was a combination of ignorance and a growing feeling of irrelevance, of being out of touch. But also a huge amount of insecurity.
Nick: My character Joseph is definitely enamoured with Jerry. He's a bit lost and he's looking for this older brother figure in his life. He finds that in Jerry and he'll do anything to protect that relationship.
The mundanity of the day-to-day of working in GCHQ is very funny. Was that borne from research?
Nick: They did informally meet with us. There was an initial concern from them that we were sort of wanting to blow the whistle on them. Once they realised it isn't that kind of show, and that I wanted to know things like, what does the canteen serve on a Tuesday and is there a GCHQ choir (there is) and do they do cake sales (they do) they relaxed a bit. Essentially they do all the things that you'd expect of any office environment.
It also came from my own experiences. After University I worked at investment bank Morgan Stanley and in a similar position to Joseph, sort of between the IT systems and the traders. A lot of the time I had no idea what I was doing but I was aware that some of the things I was doing were quite important and I was trying to blag it. For example, Joseph accidently deletes a load of files, I genuinely did do that at Morgan Stanley.
The show is joyously silly. There is a certain fashion for more dramatic, dark comedy. Was the silliness of this show what appealed to you David?
David: I'm a fan of all kinds of comedy. What appealed to me was the set-up, the situation, and the characters, all of which was inherently original and funny. Equally important to me was the opportunity to work with Nick again and I thought we'd have a lot of fun improvising on set.
Nick: I really wanted it to be a bare-chested comedy with that high gag rate. As a live comedy performer I was always desperate to get to the next gag because that's how you keep your audience. I really wanted to make a show that put comedy first, over and above emotion, or drama or storytelling.
Can you talk us through the writing process?
Nick: I'd come up with a broad outline for the series which we'd run past all our Executive Producers; David and our execs at Sky and at Expectation Entertainment. At that point we'd make sure there wasn't anything that someone wasn't really on board with or that was going to be a problem. Then I'd drill down into the stories, working closely with a brilliant story producer / script editor. We'd dive into more detail to nail down the structure of each episode.
Then I'd go away and write a first draft of the script. From that point onwards it becomes incredibly collaborative. Getting notes, thoughts, alternatives for gags. I'd keep doing that through a 2nd, 3rd, 4th draft until we get to a shooting script. Then in the shooting of it, some days we'd just shoot by the book, exactly what was on the page. Other days we felt inspired or we felt the scene called for it, we'd all chip in and improvise.
So yes, I write the scripts, but it's a truly collaborate process and all the better for it.
When you come up with a risky joke, how do you decide if it's appropriate?
Nick: It's a discussion. I'd hope that by having enough voices on the show we find the line and don't cross it. We also shoot a lot of alternatives if we're worried about legal and compliance issues.
David: I don't find comedy that is safe very interesting. I think it's the role of comedy to push boundaries. But we're always questioning the choices we're making and ultimately you have to trust your collective taste on it.
You can watch the full video discussion below:
---