Ones to Watch – Script Angel Inclusion Scholarship Shortlist 2020
June 5, 2020 Script Angel News
Having read over 150 submitted scripts, here are the wonderful final seven who have been selected for a video-call with our screenwriting coach, Jay Harley.
The winning writer will be announced on Friday 12th June 2020 and will receive three months of free Screenwriter Coaching.
If you are interested in contacting or commissioning any of the writers, please contact Script Angel  and we will be happy to make an introduction.
Zia Holloway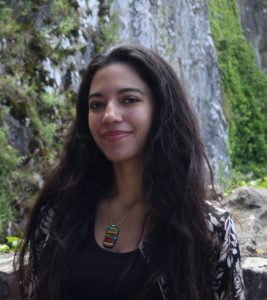 Zia is a BAFTA mentored multi-disciplinary writer who has worked in film, television and theatre. She has always had a profound interest in film and television and this interest led her to pursue a career in screenwriting. She has come a long way since her career beginnings with the BFI Film Academy residential and has worked on some exciting productions including Netflix's Afterlife and the BBC's His Dark Materials. Zia draws upon the experiences from her upbringing and weaves the fantastical with the mundane to create rich stories that ruminate upon the strangeness of life.
Zia's script: Wayward is a colourful family drama that follows the turbulent lives of the Morrow clan who live in a pastoral council estate.
Musad Farah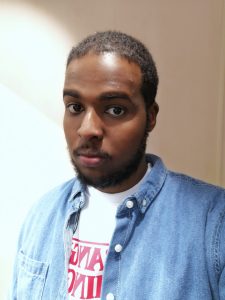 My writing background consists of a full-length feature screenplay and a plethora of writing samples.
I've always had an interest in writing, as I spent my school years writing stories and unfinished "novels".
I was always trying to replicate whatever book or series I was into at the moment in time, so I'd end up with stories about a young boy with a magic wand or fantasy epics about a motley crew of heroes who travel to destroy various MacGuffins. No copyright infringement there. But as I got older and, frankly lazier, my interest shifted from books to movies. I learned to appreciate movies from an artistic perspective and started referring to them as films. That's when I decided to put my writing ability to use to craft the blueprints for films, screenplays.
Musad's script: Verisimilitude is a romantic black comedy film about Mustapha, chronicling his relationship with a character from a porn video who has entered the real world.
Danielle Cooper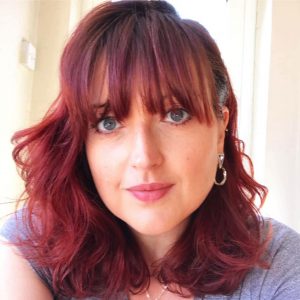 Danielle Cooper lives and works on the south coast in Hove, with her two teenage daughters and He-Man the cat. Growing up in a sprawling family in the Eastend of London during the 80s gave Danielle a uniquely traditional experience, whilst exposing her to the growing alternative comedy and left wing political ideologies that developed there. This is still evident in her writing style and subject matter. Having been an avid reader from an early age, reinterpreting her favourite stories and creating her own was a natural progression and writing has always been a huge passion.
From moving out at 17, coming out as a lesbian after a heterosexual marriage in her early twenties, giving birth to a trans daughter at 25 and finding recovery from drug and alcohol dependency at 40, Danielle has lived and witnessed many stories, but fails to find them reflected in popular culture. She felt the time was right to move away from her 20-year unremarkable sales career and focus on telling her tales, beginning with a show combining stand-up and drama for the Brighton Fringe (on hold).
During lockdown Danielle has written a pilot episode and episode outlines of a six-part comedy drama focusing on her first year of recovery, entitled The Rooms. She has also written a number of monologues including Mother's Meeting and Not My Prison, which are currently at various stages in a number of competitions. Using the BBC Writer's Room Opportunities page as a starting point she has spent lockdown making connections and contacting a wide variety of organisations to get support and exposure for her work.
Danielle's script: In six 30-minute episodes, The Rooms tells the story of weary sales exec Dani, who has spent twenty years addicted to alcohol, drugs and people. However, it is in her new-found sobriety that this single mum faces her biggest challenges yet.
Khayam Ayub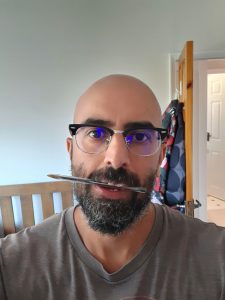 Have to quote Orwell here, "I write because there is some lie that I want to expose, some fact to which I want to draw attention, and my initial concern is to get a hearing."
It started when I was eleven and my middle school teacher, Miss Lowe, mentioned that she enjoyed a short story I'd written. That was the moment I found that I just might get that "hearing".
I've written ten unpublished novels over the last ten years; three such novels are, The Crow War – about two factions of crows that wage a war over a dead tree. Ska – a coming-of-age tale about a fourteen-year-old lesbian, banished for the summer to stay at her estranged wealthy rock-star father's sprawling country estate, and subsequently falling in love with his "number one groupie". And finally, The Nihilist – a Kafkaesque nightmare about a Jewish bookkeeper who ends up working for the Nazi party, aiding them in organising the final solution in an attempt to spare his own family.
Khayam's script: The Wonderful World of Cannibalism. A true-life, six-part comedy series, set in '91, about an underachieving, college student grappling with the unwelcome perils of sudden popularity after Channel Four decide to film an embarrassing movie-musical, based on the life of his highly dysfunctional family.
Aimee Shenton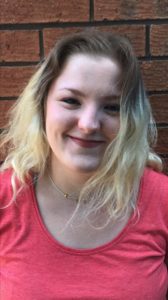 Aimee first started screenwriting at 16, and, after being selected for a BFI 'Young Screenwriter's' course, gained the confidence to continue writing about topics/characters she's passionate about. She particularly loves inventing bold, witty characters, and her inspirations include Daisy May Cooper, Michaela Coel, and Phoebe Waller-Bridge. Since moving to Glasgow four years ago, Aimee's scripts have become increasingly Glasgow-centred, yet she still enjoys writing about a variety of communities, especially working-class communities.
Aimee's script: Dead Relationship is a 30-minute TV mockumentary about a young dysfunctional couple in Glasgow who break up amidst a zombie apocalypse.
Lio Lylark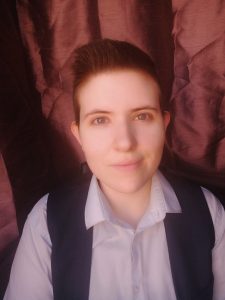 Lio Lylark (pronouns he/them/hers) is a genderqueer lesbian who left Los Angeles to pursue their dream of becoming a writer/actor. Lio enjoys messy, substantial roles, but has found over a decade of acting that few opportunities exist for women, and almost none for visibly LGBTQ actors. His dream is to write emotional, witty, fantastical stories centered on marginalized women and gender diverse characters. Lio emigrated to the UK in 2019 and now lives in London with her wife, KC, and the dream of a future cat.
Lio's script: Knell is an hour-long TV drama about a damaged psychic in the wake of her mother's death, struggling with her ghost girlfriend, intrusive sisters, dead-end job, and a malicious entity devouring the afterlife.
Charlie George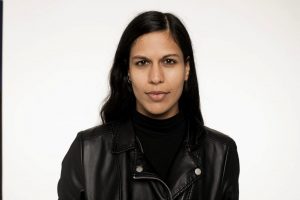 I started writing properly when I was 16. Mainly prose, short stories and terrible poems. I progressed to writing scripts for live performance, which I was doing a lot of as a dancer/circus performer and general disappointment to my parents.
I wrote my first play in Bristol, which was a fictional account based on real-life experiences set in an LGBTQ club scene, Bristol being the first city I moved to from my home-town of Swindon (home to the legendary roundabout) and where I started to first explore and forge my identity.
I continued to write plays and a pilot film script called Swing about an unlikely friendship between a troubled teenage runaway and a woman questioning her gender in a seaside town in Cornwall.
The stories that matter to me usually feature ambiguities about race, class, gender and sexuality, but not always. I feel compelled to normalize what seems 'other' by using wry humour and the universally relatable themes of awkwardness that plague us all.
My dream is to be a professional screenwriter and help breathe life into all kinds of entertaining and impactful stories.
Charlie's script: Door to Door is a comedy-drama about two very different mixed-race sisters. Living with their single-parent, white, Jehovah's Witness mother in Swindon in the 90's.
It's a story of racial difference, coming of age during waves of contradictory "Girl Power" and aggressive hair removal. An intimate portrayal of sibling rivalry, polarising and enduring love. What happens when one sibling stays and the other leaves?
---