Huge congratulations to Script Angel alumni Miranda Walker whose comedy-drama 'Face It' is now streaming on BBC iPlayer.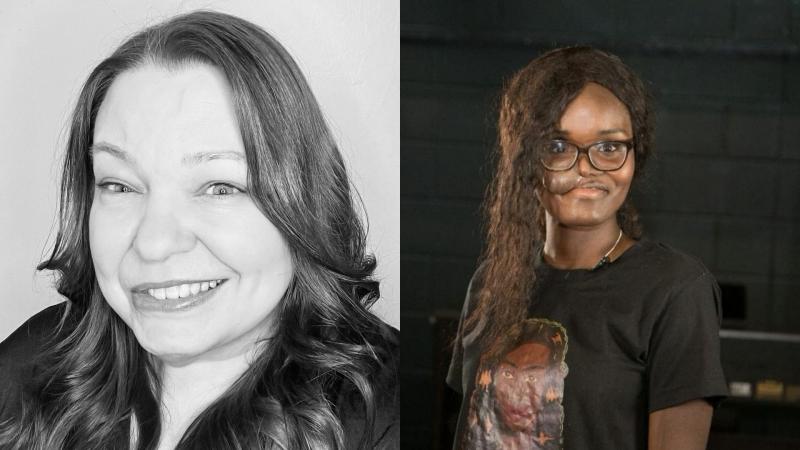 Miranda was one of twelve D/deaf, neurodivergent and disabled professional artists to be commissioned to produce new film and audio works for the BBC.
'Face It' is a series of comedy-drama monologues revealing how two women feel about their faces in the modern swipe-right world, and the unexpected impact of wearing Covid-19 face masks.
'Face It – Abbey': Annoyed with her ageing letdown of a face, ambitious Abbey (Abigail Cruttenden) has had enough of being overlooked. She is hell-bent on holding back the years and landing a promotion…with some help from Muhammad Ali. But how far will she go for the win, and is she prepared for the fallout?
'Face It – Leonie': Straight-talking Leonie (Crystal Marshall) is confident her acquired visual difference won't stand in her way. She has dealt with her demons and fiercely knows that her changed face doesn't matter. With genuine delight, she gives a rundown of the most entertaining well-intentioned comments she has heard – just in at No. 3 is 'I Can See You Used to be Pretty' by Man in Pub. So why does the way she's treated when she wears a mask keep moving Leonie to tears? What will happen when Covid masks are finally binned? And can she dig deep and face up to a blast from her past?
Watch 'Face It – Leonie' here. 
'Face It' is produced by Michaela Hennessy-Vass and directed by Jason Edwards.
Miranda spoke to Changing Faces about creating the show and visible difference representation on-screen.
Where did the idea for 'Face It – Leonie' come from and how did the script develop?
My own visible difference was acquired in my twenties, so I have experience of losing one face and gaining another. It was a journey of acceptance and I vividly remember times when I thought I had emotionally conquered it completely, then I'd suddenly be blindsided.
I even remember feeling that way the first time I saw myself being interviewed on TV, years later. I was used to seeing myself in the mirror and smiling in photos, but I hadn't seen how my changed face moved when I talked, and I was taken aback. Fortunately, those feelings were very short lived, but the awareness that I wasn't entirely emotionally secure about my face after all would linger.
I've become increasingly interested in how everyone feels about their face and how that might change over time. Especially in our modern swipe-right world, where even our phones use facial recognition. Ageing is the most universal example, and many women say they begin to feel overlooked in their fifties.
When I had an opportunity to pitch to the BBC, the idea to create Face It – two monologues, one exploring Leonie's life and one exploring 50-something Abbey's – was born. I approached fantastic producer Michaela Hennessy-Vass, who is also disabled, and we developed the idea together as I wrote various drafts.
Read the full interview with Miranda on Changing Faces here.
Read the commission announcement here.
---