Career Tips For Up-and-Coming Screenwriters by Drew Marke
Tips on what to do after you've made it onto the first rung of that elusive ladder…
If you're like me, you're a newbie writer. You've won a screenwriting competition or you've been selected by a new writers scheme such as BBC Writers Room or the Channel Four Screenwriting Course. So now you may be asking yourself WHAT NEXT? How do I convert this opportunity into a fully-fledged writing career?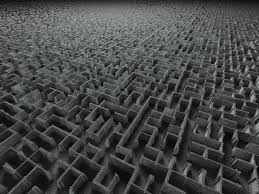 First of all, now is definitely not the time to rest on your laurels. In fact, quite the opposite. This early stage in your career is both tough and crucial; some days it will feel like you're climbing a ladder, making some headway and other days you'll feel more like Alice in Wonderland, trying to find your way through the labyrinth in the Queen's Garden, feeling like you're getting nowhere.
So based on my own experience so far and because I'm a blog junkie who can (and will) pull knowledge from other, more experienced writers who are a bit further up the ladder, here are some tips that may help you get to that next step in your career. Use at will:
GET AN AGENT?
This always seems to be a hot topic in screenwriting circles. After you've got that initial break, is it the right time to get an agent?
Some say yes. Some say no. Some cry Catch 22 and say that production companies won't read your work without an agent, but then agents won't look at the work of an amateur writer without a commission or similar.
Firstly, let's dispel a couple of myths:
Myth: Agents won't look at the work of an amateur writer without a commission.
Truth: Some agents are actually willing to read work from new writers, even those without a commission, especially if they've received recognition like winning a competition. An even smaller number of agents will look at your work even if you haven't had any sort of breakthrough. Whether they'll actually take you on at this point is another story. If your work is good enough, and I mean stand-out-can-hold-its-own-amongst-working-professionals stand out, then the agent may say to you: come back when you've won an award or got a commission – essentially something they can use as collateral to try and get you (more) work. So when you do get that breakthrough award, get in touch with the agent. Until then, there's no harm in waiting. Having several achievements under your belt when you next approach them will only work to your benefit. You may even garner interest from more than one agent.
Myth: Production companies won't read your work without an agent.
Truth: In large part, yes. But some production companies do look at work from newer writers without an agent, even companies that don't accept unsolicited material. Caution: please don't use this as an excuse to send an unsolicited email to 100 production companies with your script attached. Send a short personalised query to a few production companies, (preferably those who have produced programmes in the same genre as your script), asking if they would be willing to read your work, or alternatively phone and ask. If you choose this option, you have to be prepared to deal with a LOT of rejection. But if you are okay with that and can do this without annoying them with a deluge of calls and emails asking if they've read the script you sent to them – like two days ago – then you may reap awards, namely establishing a relationship with these companies, or having that producer or development exec recommend you to an agent. Two birds with one stone. Boom!
So with all that said and done, should you approach an agent after your first break? It's completely up to you. But whatever you do, don't rush the decision. Treat it like marriage. You don't know how long the union will last, but make the decision to walk down aisle on the basis that it will last forever.
SET GOALS
Knowing what you want and putting a plan in place to realistically get there is a good thing. Of course the main goal for a lot of writers is to see their own original work onscreen or in the movie theatres. It can and does happen, for some writers right off the bat, such as In the Flesh's Dominic Mitchell and HBO Girls' Lena Dunham. But these examples are rare. The road to getting your own series commissioned can be long and risky. Production companies and commissioners want proof that if they hire you to write your own series of say six episodes, you can deal with notes, redrafts and deadlines. And most of all that you can deliver the goods.
So after your initial break, you have to figure out ways to prove to them that you can deliver. Figure out your next step. Will you produce a short or maybe make the jump to your first feature? Is your aim to write an episode on a continuing drama (soap) in order to get your first commission? Do you want to produce a web series?
When contemplating options like those above, think about why you're doing it before you decide if it's the right way to do it. For instance, are you making a feature to make money or to showcase your work on the festival circuit? Are you producing a web series to gain an audience following for your writing or to show those in the industry what you can do, in the hopes that it will help you land your own TV show quicker? If you pursue the continuing drama route, do you want to become a writer for hire or eventually chase your own series?
No route is easy and often it takes time, money and energy, but knowing where you want to go and your plan to get there will give you focus and alleviate that feeling of meandering in your career.
KEEP WRITING
I went to a Q&A recently which featured a well-known writer in the UK. Something they said both shocked and inspired me. Even with a few TV show hits under their belt, at one point they wrote seven spec scripts/pilots in a row and NONE of them were picked up. Yes, seven! Their advice (and caveat) was to keep writing new material, even if one of your projects is green lit. You never know when that project will go into production and therefore when you will be paid. It could be months. It could be years.
So keep on developing new ideas and writing, preferably producing at least 2 new scripts a year no matter what happens after your breakthrough, because the most common question you will be asked not only as a new writer but at every point in your career is: what else have you got?
WEB SERIES
Making a web series or a webisode of some sort can be highly beneficial to your career. In some cases, it has actually made careers. Ask the writers of C4's Run, Daniel Fajemisin-Duncan and Marlon Smith, who got a series commissioned off the back of a webisode; or Steve Stamp et al who got a pilot commissioned for a series called People Just Do Nothing after producing a YouTube series; or the creators of US show Broad City Abbi Jacobson and Ilana Glazer, who are now in their second season.
A webseries has several benefits: it can prove that your writing translates well from paper to screen; if you decide to get involved with the production, it can demonstrate your skills as a producer as well as a writer (note that the Broad City writers are executive producers on their show); you have more creative freedom to realise your vision because in truth you will have to make a lot more compromises when you work professionally in film or TV; and finally, you can build an audience for your work, which is great all round for your work and, let's be honest, your ego!
FUNDING
If you have awards on your writing resume, this is probably a good time to apply for film funding. BFI, Film London, BBC Writers Room, and our very own blog right here on Script Angel are great resources to find out about funding schemes and competitions. Remember, the people behind these funds don't just want to hand out money to anyone who claims they've got a great idea, they want to promote new, up-and-coming talent, especially talent that's already proven they can deliver and can/will use the funds to advance their careers.
So use whatever awards or success you've received to "humble brag" (a great phrase I came across recently) on that funding application form and maybe you'll bag the fund to make that great project you've got in your head (and hopefully on paper) a reality!
CREATING YOUR OWN OPPORTUNITIES
Just in case you missed it the first time, this is not the time to rest on your laurels. Don't stop doing what you did before you got your initial break. Keep networking. Keep building your contacts. Keep LinkedIn-ing. Keep putting your work out there to competitions and schemes. Approach up-and-coming producers and directors who are in a similar position to you and also share your vision, and collaborate on a project.
Essentially, keep going as if you're chasing your first break and never stop.
THANKS
Katy Perry (yes, I'm quoting Ms. Perry) says it takes a village to doll her up and prep her for her performances. Well, it also takes a village to make a successful writing career. By this I mean the people who are willing to read your work and give you notes for free, the industry professionals who give you advice, mentor you, champion you and/or recommend you for assignments.
I believe you should never forget those who helped you to get to where you are. Check in on them once in a while to say hi and maybe even thanks!
FINANCIAL PLANNING
A writer's career is unstable, even when you've achieved success. Never assume the money you earn at any given point will last forever. Say, for example, you've just got a writing assignment and have been paid a decent if not handsome sum, if you think that money is enough to last you six months, do a financial plan that stretches the money so it lasts for a year. Because you can never, ever predict when your next assignment and pay cheque is coming in.
LASTLY, PACK A SANDWICH
It's a long journey ahead of you… stay positive and good luck!
Drew previously worked as a project manager and freelance video producer before turning to screenwriting. Over the last few years Drew has produced several shorts (winning a Film London award in the process) and a food show web series (7xeps), which gained online audiences in the UK, Europe and US. Drew recently took part in the Chanel Four Screenwriting Course and is represented by Lindsey Bender at United Agents.
---