Alumni Success – Kerry Drumm series premieres at SeriesFest
June 11, 2021 Script Angel News
The lineup for the prestigious SeriesFest has just been announced, and in competition in the Digital Shorts Series Competition for Drama is the world premiere of INCOMING: Words of War written and directed by Script Angel coaching alumni Kerry Drumm.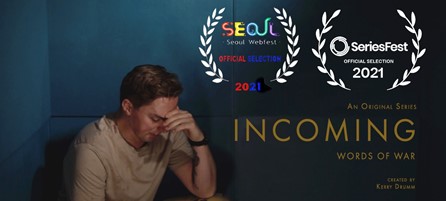 Filmed during lockdown at the end of 2020, INCOMING: Words of War marks Kerry's debut as a director, episodes one and five of the six-part series will premiere virtually at SeriesFest over the 18-day festival, which runs from June 24 to July 11.
Produced by Emma Hunt and Kerry through Little Red Fox Productions and Executive Produced by Tony Wright from December Media, the six-part web series focuses on seven Australian soldiers who take part in 'My Voice', a social experiment to document and share their experience of being at war. Visiting the 'My Voice' booth to answer pre-recorded questions by Q, the soldiers reveal personal stories, the impact of PTSD, and reasons for joining the military.
Incoming: Words of War has also been officially selected for the Seoul Webfest 2021
About SeriesFest: a non-profit organization, SeriesFest (Denver, USA) champions and empowers artists at the forefront of episodic storytelling by providing year-round opportunities for creators and industry experts to connect, collaborate, and share stories, which inspire and impact global audiences.
---