Alumni success – Dee Chilton wins Filmarket Hub TV Pilot Contest
July 30, 2020 Script Angel News
Celebrating Script Angel alumni success! Congratulations to Dee Chilton who has won the Filmarket Hub TV Pilot Contest 2020 with her series 'Undercurrent'. Dee was awarded a 1000€ cash prize and the opportunity to pitch the project at the Filmarket Hub UK Online Pitchbox.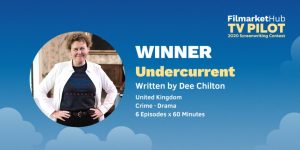 Following a successful career in the Navy, where she rose from the lowest rank to Commissioned Officer, Dee is now a screenwriter and military advisor to film & television, and is an alumni of Script Angel's professional development screenwriter coaching programme.
With the screenwriting industry awash with thousands of competitions and schemes, we asked Dee to tell us what drew her to this opportunity and what she learned from it.
"I'm always wary about submitting to 'pay to play' screenwriting competitions. There are some fabulous ones well worth a punt, like the C21 Drama Series Script Competition, with the fee covering good, experienced readers who rightly should not work for free, but we writers soon learn some others are not worth the submission fee.
I submitted to the Filmarket Hub contest because it has a UK/European slant and the organisers were very clear about who's involved and had lined up a fantastic jury panel including Sarah Williams (literary agent, Independent Talent Group), Karol Griffiths (development consultant) and Tara Cook (development producer, Carnival Films). The terms & conditions were all super clear, and the prizes on offer and intent of those prizes (to champion writers who place in the contest) looked great.
So what is Filmarket Hub? "With over 20,000 users from all over Europe and Latin America, Filmarket Hub matches unproduced projects with producers, TV networks, OTT platforms, sales agents and distributors. Filmarket Hub also organizes live pitch events under the brand "Pitchbox", where the best projects from the online marketplace have the opportunity to be showcased to leading companies in the industry."
As the winner of the TV Pilot Screenwriting Contest, I was invited to pitch my project at the Filmarket Hub UK Online Pitchbox. I received superb advice, guidance and support from their team, including an online session about how to make the best of this opportunity. I was given an individual one-to-one mentoring session with a professional pitch coach ahead of the day as well as a full technical rehearsal prior to the event, especially helpful as this year it was all happening online.
For me, that added a new challenge to be met and overcome. The team's advice was, writers work in a visual medium and increasingly people expect to see visuals now. We need to think and pitch visually. And for this event, that was going to be vital. Me stood there speaking into Zoom for the seven minutes we had would be as boring as ****, right?
So as well as formulating my pitch content, now I also had the challenge of creating my own little 'mood reel' to go in the middle of my live segments either side of that. This proved to be an interesting 'game' for me during lockdown (and I'm eternally grateful to my filmmaker friends for digging me out of the technical hole I got myself into in getting that right).
All of us pitching then had individual fifteen-minute, one-to-one meetings with each of the attending executives. We're talking highly experienced, high level people from some big name companies. Every single one of them was encouraging, supportive and generous with their advice and time.
Whether anything specific comes from this fabulous opportunity we were given is out of the control of Filmarket Hub. That comes down to us, our pitches, our projects, and of course the executives/companies' own needs and abilities to do anything with the projects we pitched. But the team did everything they could to facilitate that and continue to encourage and advise us after the event.
And I wish all my fellow Filmarket Hub UK Online Pitchbox project teams every success, because they were all amazing. I hope to see them on screen in the not too distant future."
Dee Chilton
Screenwriter and Military Advisor to Film & TV
Represented by: Nick Turner Management Ltd.
Website: deechilton.com
Twitter: @DeeChilton
Script Angel Interview: scriptangel.com/success-stories/dee-chilton/
---