Screenwriting lessons learned from making a short film
Screenwriter and filmmaker Phil Lowe guest blogs for us on the screenwriting lessons learned making his own short film:
It's clenched-fist-salute time: after a production period longer than the latest Star Trek movie, my nine minute short film meisterwerk hit the festival screen a few weeks back. In a later blog I'll offer some reflections on what I've learned from the whole filmmaking process. This time, three things I've learned as a writer from seeing a short film script through from conception to the end of post production.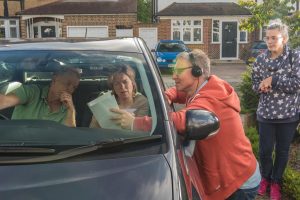 Don't neglect the rules of storytelling just because it's "short"
A typical short film is over in ten minutes, so the audience don't need all the hooks they get in a Hollywood blockbuster. Right?
John Yorke in his book Into The Woods writes about taking the "fractals" approach to story: every key scene in a film contains its own mini structure, with inciting incident, midpoint, crisis and climax. And if a scene needs its own internal story structure, then so does a short film. Of course the form allows for innovation, and there are many successful shorts which break the rules. But be honest, how many short films have you watched which surprised you with how bored you can get in just a few minutes?
You're not just engaging the viewer. Do you want good actors to be in it for little or no money? The best crew you can get? My producer came on board because he liked the fact the film has a midpoint where the whole thing teeters on its axis and becomes deeper and darker. My lead actress came on board not just because the script made her laugh, but because she saw an emotional depth to her character. After that conversation, I shoved to the back of my drawer two other potential short scripts which were disposable comedies with no significant character arc.
Writing a script that is "easy to make" isn't just about budget
Before I shot my current short The Driving Seat, I had the next one lined up: a "simple" film with only one actor, all set in the busy lunchtime streets of the City of London. That draft script is now shoved to the back of the deepest drawer I could find, never to be seen again.
Budget is one thing; the logistics of a shoot are another. Even The Driving Seat, set mainly inside a parked car, caused me headaches with its one minute of action taking place outside the car. The one thing you don't want – and we got – is "cloudy with sunny intervals". That one minute of screen time took 90 minutes to shoot, and we had to decide at the start of the day how sunny it was going to be and for how long – because if we shot the outside in sunshine, then the lighting for the inside scenes had to be sunny as well. So, if you want your first film to be as easy as possible to shoot, set it indoors.
But of course, there's indoors and indoors. Writing a script set in an office? Whose office could you shoot in? (When you've never made a short, the answer is "that's the producer's problem", but if your producer's not getting paid, you may find the trickiest problems getting delegated back to you.) It's a bit like thinking about your target audience when writing for commercial film or TV: you don't want to constrain your creativity, but you have to be realistic.
You have to love your script
If you're super efficient, you might have a finished short script in a week; more likely it could take you a month or two before the script is as good as it can be. It will very likely be at least another year before you see the finished film on a screen; and if it gets into festivals, you could be sitting and watching it on several big screens for another year or two beyond that. So this is a good time to consider: why are you writing this script?
You need a fire burning in you about your short as great as the one that burns about a feature or TV script you're pitching. I was very clear that with The Driving Seat I wanted to entertain people, and give them something to talk about afterwards. It means that even now I know every line before it comes, I still love watching the actors bring the lines to life – because I made sure the script had substance.
So my advice is: write the script that is the easiest to make, but the most difficult to write. Somewhere between those two benchmarks is the sweet spot of the low budget short that will hook its audience.
Phil Lowe is a scriptwriter and novelist with a professional background in business psychology. He wrote and directed the short film The Driving Seat starring Olivier-award-winning actress Janie Dee, which is in festivals now. http://www.phil-lowe.com. Follow him on Twitter @grumpyrabbit.
---