Content London 2022 Industry Report
December 12, 2022 Industry News
As the world's leading development marketplace and conference, Content London has long been a highlight of the TV enthusiast's calendar, with commissioners, producers and creators from across the globe converging to discuss the latest in international programming.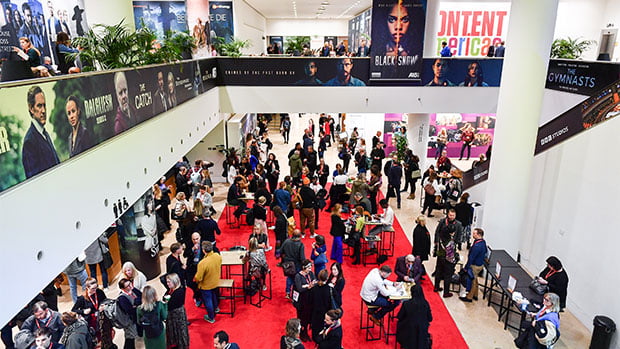 This year's three-day event kicked off with the annual Studio21 Drama Series Script Competition, which saw the six finalists – Jess Edwards, Alex Mathias, Russel D McLean, Salim Allybokus, Tobias Hussey and Laurence Turnbull – pitching their projects to a packed hall.
The winners were announced on the final day at the C21 International Drama Awards and, for the second year in a row, the prize went to not one but two writers, each of whom received a £10,000 prize and prestigious development deal with Studio21. Read our report on the announcement of the winners of the Studio21 Drama Series Script Competition. 
Perhaps the most common question asked of this year's commissioners was "what ideas are you looking for"? The answers ranged from "game-changing, small 'p' political drama" (Channel 4's Head of Drama, Caroline Hollick) to "something you can watch with a Tesco Meal Deal that will make you feel wonderful" (UKTV's Senior Drama Commissioner, Philippa Collie Cousins). Other answers included "commercial mysteries" (Audible's Director of Original Content, Lydia Shamah) and "contemporary, returnable stories" (Sky Studios' Director of Original Drama, UK&I, Meghan Lyvers), with Pearlena Igbokwe, Chairman of Universal Studio Group, summing up the across the board appeal for fresh, original stories with the words "something that will surprise us".
A recurrent theme was the desire to attract younger viewers, with commissioners from the UK and Europe stressing the challenge of producing programmes that will appeal to an audience that watches content on its phone.
With YA content now more likely to be put out on digital platforms and social media rather than traditional terrestrial channels, budgets are necessarily lower and authenticity, explained Karl Warner, Channel 4's Head of Youth and Digital, is key. "Authenticity is so important to young people. TikTok has taught us that glossy content often just doesn't connect with them".
Perhaps just as instructive as the commissioners' wish-lists were their descriptions of what they were not looking for. Channel 4's Caroline Hollick said the channel was not looking for animation, anthologies, biopics or dystopias ("we're living in a dystopia!"), while Britbox International's Diederick Santer said he was not looking to commission sci-fi, fantasy or anything that entailed "world-building."
Another key takeaway from the event was the increasing importance of co-productions, with the proliferation of companies from different territories teaming up to secure funding and expand into new markets lending the discussed projects a truly international feel.
Jonathan Cavendish, co-founder with Andy Serkis of The Imaginarium, said that of the many co-productions in his company's pipeline, two are set in the UK, two are in Scandinavia, two are in the US and one is set in France. He also revealed that The Imaginarium has teamed up with Taika Waititi to produce "the world's first and almost certainly last Polynesian football film".
Elsewhere, Sky Studios hosted a session on its continued expansion into European markets, while the President of Universal International Studios, Beatrice Springborn, announced that her team had partnered up with Australia's Matchbox Pictures for "an amazing true story" that boasts a UK writer, a Korean producer and an Australian crew.
There was a strong sense from the screen-drama community that there is no slow-down in appetite for content, which is great news for all us storytellers!
---