Client success – Laura Matthews screenplay wins awards
November 5, 2020 Script Angel News
Celebrating Script Angel client success! Congratulations to Laura Matthews whose feature screenplay 'The Dog Star' has been winning awards this year.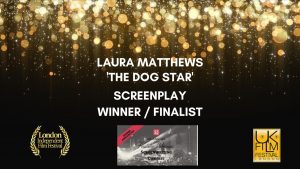 London Independent Film Festival 2020
Best Horror/Sci Fi Screenplay – WINNER
Follow LIFF on Twitter @LondonIFF 
UK Film Festival 2020
Feature Script Competition – Finalist
Follow UK Film Festival on Twitter @UKFilmFestival
Stage 32
Feature Drama Competition 2020 – Finalist
Follow Stage 32 on Twitter @Stage32 
Panel of judges from MGM (A Star is Born), Rough Diamond Management & Production (The Least Among You), Cold Iron Pictures, (Swiss Army Man with Daniel Radcliffe) Informant Media (Oscar-winning Crazy Heart, Kidnapping Mr. Heineken) and many more.
Laura is currently working with Script Angel on several new feature screenplays and short films.
---