Can You Teach Screenwriting?
 Guest Post by Anthony Povah
A few eyebrows were raised recently when Hanif Kureshi summed-up creative writing courses as 'a waste of time' – especially given that he teaches one of them. Now, it's not for me to argue with the revered novelist, but imagine if this attitude pervaded other professions:
"Yes, the brain tumour is perfectly operable… Dr. Smith will be performing the surgery. No… he didn't go to medical school… thought it would constrict his creativity as a surgeon…"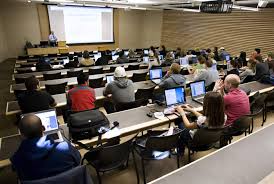 I know it's a ludicrous example, but why would anyone serious about writing reject opportunities to learn? Now, I'm not suggesting everyone signs up for MAs in Creative Writing, and I get worried when I see courses called '10 secrets to making it in Hollywood'. But to succeed, you need to be open-minded about creative writing courses and actively seek out opportunities to work with others.
There's lots of options out there, so you should be able to find something that works for you. For me it's short courses, and I recently completed a fantastic two-day workshop in Salford run by ex-Corrie storyliner Gill Creswell (www.storylining.co.uk).
Gill called day one "a Masters in a morning" and covered the fundamentals of story structure before sharing the framework TV execs use to deconstruct the three-act structure. To 'bring it alive', we then used it to analyse an episode of ITV drama 'Mrs Biggs'.
In the afternoon, each participant was asked to pitch an idea for a short feature that we could develop as a group during day two. So, I pitched an existential drama set in a nursing home. I thought it was fantastic; the protagonist was an elderly lady struggling with the choice of carrying on living or taking her own life. Gill paused… gently demolished my idea with just three words – 'who's the antagonist?' – and completed my lesson in structure.
We kicked off day two by voting for which idea to develop. Needless to say, mine wasn't chosen – which was just as well as the one that won was excellent. We were then plunged into a day of group story development, building the feature scene-by-scene using the techniques learned on day one within a writers' room environment.
Which brings me onto the most important thing I learned: if you want to succeed, you better learn to play nice with others. Regardless of medium, collaborative storylining is now the norm and in order to get produced, you'll have to withstand the critical eye of other writers, producers and execs. So learn how they think and how to working collaboratively.
Luckily, there was a great mix of writers on my cohort: two published novelists, a playwright, a journalist, a screenwriter (myself) and a novice keen to learn about the writing process (indeed, we found that the techniques Gill taught apply equally to TV drama, soaps, features, novels or plays).
I had a fantastic two days. I love playing with other writers and more seriously, making contacts with people who can help develop my career. The atmosphere was fun and supportive; I got to work with some great people, learned a lot about structure and came away motivated to keep writing.
Writing can be a solitary pursuit, but becoming a successful writer – whatever your goals – isn't. Checking out different techniques, sharing experiences and learning to work collaboratively is crucial to developing your career. So hunt out opportunities, then get out there and learn, share and grow.
About Anthony: Born in Liverpool, Anthony Povah has been an environmental campaigner, jewellery salesman, jazz musician and international arms dealer. He holds qualifications in economics, philosophy, management and the martial arts. This is all true. Anthony's childhood love of writing was recently rekindled and he is currently looking for a studio to pick up his first TV drama series. He has completed several creative writing courses including ones led by Daragh Carville (Being Human, Smoke) and Gill Creswell (Coronation Street). Anthony is a client of Hayley McKenzie (Script Angel) and plans to complete a creative writing course run by the Open University later this year. He is married and lives in Lancashire.
---