Book Review – Writing for Television Series, Serials, Soaps by Yvonne Grace
There might be a ton of books on screenwriting but most of them focus on the glamorous world of writing film. Film talent is making the move to television – even Steven Soderbergh's got in on the act (The Knick) –  and so too are the publishers of screenwriting books. In her no-nonsense book experienced television producer Yvonne Grace guides you through the world of writing for television series.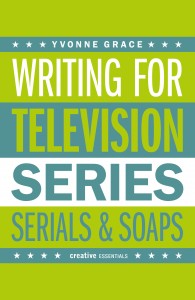 Like all good producers and script editors, Yvonne has a passion for writers and storytelling, married to a pragmatic approach to the industry and writers' place in it. Her wealth of experience, her passion for the storytelling power of television and her admiration for the writers who deliver those stories is infused through every page. While she doesn't shy away from the truth of how tough it is (the deadlines she mentions might make your eyes water!) you always feel she's on the writer's side.
Writing For Television Series, Serials and Soaps walks you through the reality of writing on established series. It outlines the skills you'll need to master in order to make a living (and it can be a good living) from writing on long-running dramas. She lets you peek inside the story document to which your commissioned script might have to adhere and gives you a fly-on-the-wall look at how the Story Conference on a drama series works.
The book also has some terrific interviews with the writers who have made the journey from aspiring to professional. Their stories of breaking in and writing on established series is both a practical 'how-to' and an inspiration.
After reading this book you'll have a clear idea of what it's like to write for a television drama series. You'll also come away reminded of just how powerful a storytelling medium television series can be and hopefully be inspired to write for them.
---