Book Review: The Insider's Guide to Writing for Television
Guest blog by screenwriter Heather Wallace-Brown.
When I first decided to steal my thoughts from out of the ether to place them onto paper, upsetting the minimalistic look of my front room was the furthest thing from my mind. I'd heard people speaking about this screenwriting book and that screenwriting book, read of authors whose names appeared to be right up there with God and Shakespeare. It seemed as if to be a part of this screenwriters' club I needed to get purchasing. I bought my first screenwriting book and read it like a novel. Before long, I'd heard of another book. And then another. Followed by…yet another. I didn't care. I had to have them all. Soon my bookshelf was groaning from the sheer weight of all these screenwriting titles and I had little choice but to purchase another bookshelf. But just before I caught the tram out to IKEA, I opened up Amazon to purchase something quite unrelated to scriptwriting and up popped a book I hadn't requested yet came in as recommended. (I ain't runnin' coz I just know you is gonna find me).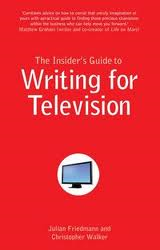 It took less than thirty seconds to purchase, "The Insider's Guide to Writing for Television" by Julian Friedmann and Christopher Walker. I had no plans on writing for television but I had once spoken to Julian and he seemed like a nice enough bloke and not only that, this nifty little page turner turned out to be the best I've ever read on the subject.
Divided into two halves, Part One of the book is written by Julian Friedmann. Here, he not only explains how to write for television along with tipping you on how to transform yourself from naïve-greener to a hard-nosed negotiator, he also stresses the importance of research and networking, along with presentation and where to submit your work. Does one need an agent? You're going to have to read the book to find out.
The second half of the book is by Christopher Walker. Here, you find yourself neck deep in a world of rich information as you discover the art in creating a story. He also offers tips on how to kidnap the audience's attention, guides you on formatting and structuring, genres, writing good dialogue, giving birth to great characters and writing synopses and treatments. TV or Film, it really doesn't matter the size of the screen you choose to write, as the information found in both sections of the book translates well for either.
This neat little book with its bright coloured cover proved a Holy Grail for me during the early hours of one Friday night/Saturday morning. I shall never forget how it helped me in negotiating an option for my script, as well as helping me to sound like a writer who had been in the business since the Great Flood. Believe me, if I can understand the legal jargon then anyone can.
And as for purchasing that extra bookshelf? I decided to throw out all the other screenwriting books instead.
Heather Wallace-Brown is a screenwriter who splits her day between being a student of psychotherapy and working on what she hopes will be her second option; a 3-part supernatural thriller for tv.
---