Book Review: The Idea by Erik Bork
How do you know if your story idea is strong enough to be worth pursuing, and if it's not, how do you fix it? In his book 'The Idea' Erik Bork explores the seven elements he believes are essential for any story idea to be viable for screen, stage or fiction.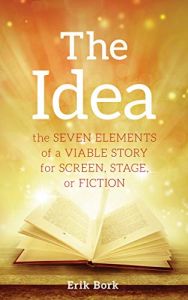 Most books on screenwriting assume you've got a great idea and it'll be a fantastic script just as long you craft it well enough. They are full of advice on the part of development that comes after the idea, helping you to invest your precious time shaping it and polishing it. But very little, if anything, is written about how to evaluate and improve the essential story idea that underpins everything else. You wouldn't invest a year building your dream house on boggy ground, yet many writers invest months and even years trying to improve a script built upon a shaky foundation.
Thankfully, and almost uniquely among screenwriting books, Bork focuses not on the execution of the idea but the strength of the core idea or concept itself. Bork breaks the story idea down into the seven ingredients he believes are essential for a story idea to be commercially viable. He asks, is your idea; punishing, relatable, original, believable, life-altering, entertaining, meaningful.
Bork is upfront about the focus on his examination being from a commercial perspective and acknowledges that while story ideas for art-house or experimental films, plays, etc may receive critical acclaim, they are designed for a niche audience, while this book focuses on helping you develop ideas that will reach a wider audience.
'The Idea' expands on each of the seven essential elements, using examples from the core premises of well-known films to give the reader a clear understanding of how the element increases an audience's engagement with the story, and how its absence reduces it.
While much of the book works from the presumption of your idea being for a single protagonist closed-ending feature film story, Bork helpfully also turns his attention to the differing demands of creating compelling ideas for multi-season television series, and is equally knowledgeable in this area. Bork is also careful to draw from examples across multiple genres so that whatever your genre specialism, you can apply the learning from this guide to your own work.
There are also useful tips throughout the book, on things like nailing your logline, the most common problems with the opening pages of scripts, how to tackle adapting true stories as well as tips on generating more and stronger ideas.
In our experience Bork is absolutely right that most projects don't move forward in the marketplace because producers, development execs and other 'gatekeepers' are underwhelmed by the central concept of the story. Now, finally, there is a thorough, thoughtful and practical guide to help you evaluate and improve your story idea.
Erik Bork won two Emmys and two Golden Globe Awards for his work on the HBO miniseries Band of Brothers and From the Earth to the Moon, working on the creative producing team–for executive producer Tom Hanks (and Steven Spielberg on Band of Brothers). He has sold original pitches and written television pilots for NBC and Fox, worked on the writing staff of two primetime drama series, and written screenplays on assignment for Universal Pictures, HBO, TNT, and Playtone. He's worked as a writer for such production companies as Imagine Entertainment, Original Film, director Doug Liman, Warren Littlefield, Jerry Bruckheimer Television, NBC Studios, ABC Studios, Warner Bros., Sony Pictures, and 20th Century Fox.
'The Idea: The Seven Elements of a Viable Story for Screen, Stage or Fiction' is available from Amazon UK and Amazon US.
---