Book Review: The Art of Script Editing by Karol Griffiths
This insight into the art of script editing is a must-read not just for aspiring script readers and script editors, but also for emerging screenwriters as they master the skills of rewriting and working with notes. In her hugely informative book, experienced script editor Karol Griffiths guides you through the world of script analysis and script editing.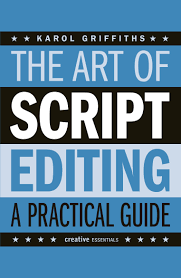 The book is that perfect blend of truth-telling and encouragement, walking you through the practical analytical skills you'll need to determine what is and isn't working in a script, whilst always keeping one eye on the writer who might be in receipt of your analysis.
There is a lot of information out there about script analysis and identifying weaknesses in the various script elements, from genre and story structure to theme and dialogue. While Karol's book covers all of these, what makes it unique is her emphasis on diplomacy and delivery – essential skills for the script editor who must work with a writer to help them produce the strongest possible script.
While many people claim to know how to give script notes, too many have only ever had to write a written report and then walk away from the project and/or writer. What sets script editors (like Karol and myself) apart is having the skills and experience of delivering notes in a way that allows the writer to feel positive about the rewrite and turn in a much improved next draft. Her sections on how to prioritise notes and take a first meeting with a writer are hugely informative and give an insight into the real development process which is mostly hidden from emerging writers.
There are also fantastically helpful sections that are a valuable resource for the new script editor, including how to prepare a script for production, the reality of script editing on a fast-turnaround television show and what to do when your producer and writer don't agree.
Whether you're an emerging screenwriter curious about the professional script development process, or an aspiring script reader/analyst or script editor, this book is a valuable resource.
Karol Griffiths is a film and television script editor, providing script development support through her own script consultancy and at Script Angel, where she offers both a 3-Month Script Development Service and a 6-Month Screenwriter Mentoring Service.
---