Book Review: The Art of Screenplays by Robin Mukherjee
Screenwriting is a creative process and like all creative things, it's a bit messy. Not that you'd think it reading some of the screenwriting books out there. Robin Mukherjee's The Art of Screenplays: A Writer's Guide is a rare thing – a screenwriting book that talks about story structure but never loses sight of what it's really like to be a writer, in the middle of that messy, exciting, sometimes bewildering creative process.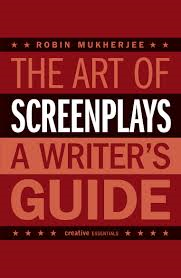 The book covers the key areas of screenplay development; how to gather, ferment and communicate story, understanding structure through observation, exploring character, developing theme and the art of writing dialogue. It's all in there and you'll learn everything you need to know to craft your polished script but in a way that resonates with you.
His section on the early stage of developing a story was particularly helpful because it reflects that very random, bitty part of the process that so many screenwriting books skip over. It's hugely reassuring to hear that you're not alone in starting with moments and scenes and ideas and characters and plot beats all in a confused muddle and not necessarily even part of the same piece of work. Yes, the finished screenplay will have a very particular form and shape and there are expectations it probably should meet if it's to 'wow' the industry. But The Art of Screenplays dives in to the swamp of ideas and 'stuff' with you and helps you to navigate your own way from the creative muddle to that finished script.
It's become one of the books I recommended most often to writers. Because it's written by such an experienced screenwriter, it really speaks to writers. So many screenwriting books are analytical; they are great at dissecting what makes up a successful screenplay, so you know what you're aiming for. Some even take you through the process, step by step, in a very specific order – first you have your concept, then you add some characters, and so on until, voila – you've crafted the perfect script! But none of that has ever felt connected to the experience of actually creating something original.
It is also one of the most beautifully written books about screenwriting that I've ever read. So often our screenwriting books are dry, bullet-pointy affairs. This is not. This is a book to immerse yourself in. It's a book you will learn a lot from whilst, I hope, having actually enjoyed reading it.
---