Script Angel founder and CEO Hayley McKenzie on what the industry should be doing to train and develop the next generation of diverse screenwriting talent. 
The BBC does it. Channel 4, NBC, Warner Bros and Nickleodeon do it. And more recently, Imagine Entertainment has joined their ranks. All of these organisations now run writer development schemes.
These schemes quite rightly involve a lot of warm sentiment about nurturing writers, but they don't just exist for altruistic reasons. With the US alone commissioning nearly 500 scripted series each year, the international drama community needs a huge number of skilled screenwriters to originate and craft that content.
We should be investing in training and development — but are we? Television executives are saying that there just aren't enough good and diverse screenwriters with the skills and experience needed to write the kind of high-end television drama audiences are crying out for. Instead, producers and development execs get in line for the same few big-name writers — and they're booked up years in advance.
Why is that, when there's no shortage of writers with a love of storytelling and a desire to write for the screen? The number of post-graduate screenwriting students continues to rise and tens of thousands of aspiring writers submit their scripts to international screenwriting contests each year. Talented, dedicated writers knock on our door daily, wanting to break into a career as a screenwriter.
If the writers are asking, "How do we break into the industry?" and the industry is asking "Where are all the brilliant screenwriters?", then where is it going wrong?
Mind the (skills) gap
There are things that a course simply can't teach: those crucial, on-the-job skills, whether turning drafts around on a tight deadline, working with script editors, taking notes from multiple sources, being good in a room, pitching to producers or commissioners.
Screenwriting courses — and there are some brilliant ones out there — can get writers from 'never seen Courier New' to 'can write a decent spec'. But writers with a couple of specs or a great play or two under their belt need to be further supported to develop their skills to industry-level. And that support doesn't exist on any coherent basis.
In addition to industry schemes by the studios and production companies mentioned above, training organisations such as ScreenSkills in the UK might run a writer development programme in any given year — but the next year, the focus might switch to training production co-ordinators. BAFTA's Elevate programme supported emerging screenwriters in 2018 but, in 2019, it's focused on emerging acting talent.
This is not to criticise those programmes: they should be celebrated for both their intent and execution. But it's becoming ever clearer that these ad-hoc, small-scale and unsupported solutions are just not cutting it. If the skills gap is industry-wide, it needs an industry-wide solution.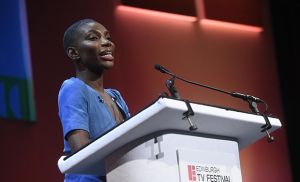 The fix
A common element of training and development programmes in other sectors is a focus on providing real-industry experience. Trainee teachers do placements in schools, medical students do clinical placements, lawyers and management consultants and finance executives and journalists all take part in shadow schemes of one form or another, within and led by the industry they are joining.
Could our industry take the same approach? Can we get past our feeling that writing is a gift that cannot be taught? That creativity cannot be learned? What if we were able to provide emerging screenwriting talent with real-world experience — and a safety net?
There is something we could all do right now: build into our development budgets the funding to support new talent, giving them the additional time and expertise needed for them to shape their vision. As actor and writer Michaela Coel said in her MacTaggart, she had great stories but she needed the support and guidance of an experienced script editor (luckily, she eventually got the talented Andrew Ellard) to be able to realise her vision for Chewing Gum on the screen.
What if every show ran a shadow-writing scheme where every episode had a shadow-writer who was supported by a dedicated script executive; someone who understood the editorial and production demands of the show, but whose job it was to train and nurture the shadow-writers through the process? Commissioning the best writer for an episode must be every show's priority and not all of those writers will have the skills, time, desire or patience to properly mentor another writer while under pressure to deliver themselves.
But how good could our next generation of content creators and the shows they create be if we fully invested in nurturing and developing our future storytellers?
This article was originally published by C21Media here. 
---