TV Drama Writers' Festival – A Review by Kulvinder Gill (Part Two)
July 19, 2014 Industry News
The TV Drama Writers' Festival had 22 sessions scheduled. In Part One  I reviewed  Tony Jordan's Keynote Speech, So You Want to Write a Feature? and Writers for Sale.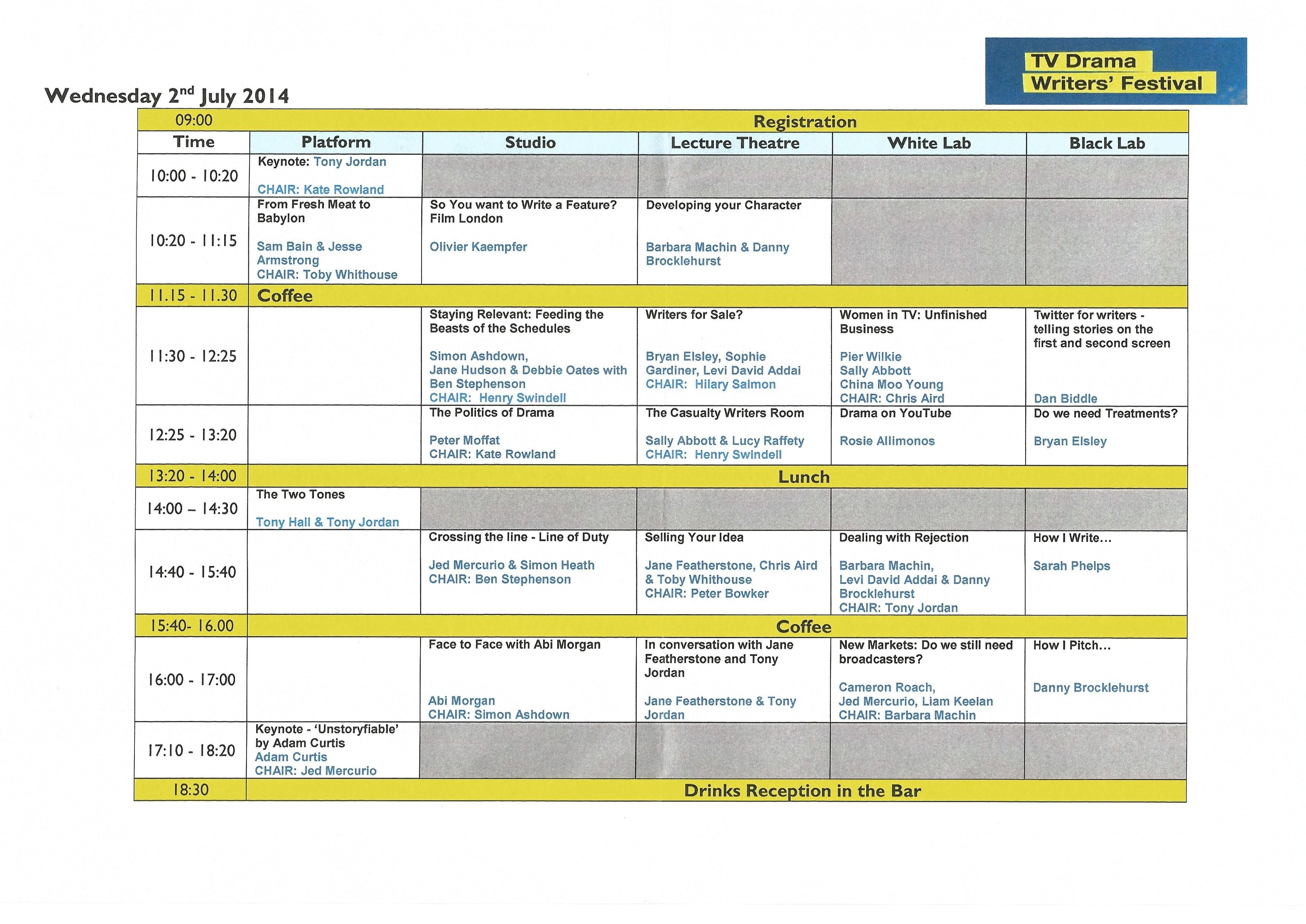 In Part Two I review the following sessions:
Drama on YouTube
The Two Tones with Tony Hall & Tony Jordan
Selling Your Idea
New Markets: Do we still need broadcasters?
4. Drama on YouTube
Rosie Allimonos, the "Head of Content Partnerships, Original Channels, Google, EMEA" presented this session on Drama on YouTube.
Allimonos began the session with some context-setting statistics:
YouTube gets one billion global visitors per month – and is the second biggest search engine (after Google – who also happen to own YouTube).
Approximately 100 hours of video are uploaded every 60 seconds.
40% of all YouTube visits are now from a mobile device – indeed YouTube works seamlessly across all devices and browsers.
This means that writers and producers can present their work to a global audience and earn a share of the advertising revenue by participating in the YouTube Partner Program.
To make content discoverable, YouTube have introduced "Channelisation". The idea is to get video uploaders to treat their YouTube account as a channel rather just a repository for videos.
The other key tool to attract and keep viewers is the "Subscribe" button. Subscribers to channels are notified when a new video is uploaded.
Content creators have been attracted to YouTube because of the creative freedom (it is a non-editorialising platform), the ability to have a direct conversation with fans and because it gives access to new types of funding such as sponsorship and brands.
Rosie Allimonos showed some examples of successful drama formats on YouTube.
The Lizzie Bennet Diaries was a contemporary adaptation of Jane Austen's Pride and Prejudice told in the form of video blogs – or vlogs – ranging from 2-8 minutes in length. 100 vlogs were released "as live" over the course of 12 months during 2012-2013. The first episode has had 1.75 million views and the channel has over 250,000 subscribers.
ThisIsDRAMA is a UK based channel producing gritty urban shows. The first episode of their football comedy drama 5ASIDE– released to coincide with the World Cup – has had over a million views and the channel also has 123,000 subscribers.
At the other end of the spectrum is WIGS  – a YouTube channel with Hollywood production values and stars that is aimed at a female demographic. The opening episode of their web series Blue starring Julia Stiles has had over 13 million views.
The Partner Program revenue split from the advertising placed around the videos is 45% YouTube and 55% content creators. YouTube is a completely non-editorial platform and takes no rights in the content. This also means YouTube do not put up any development money – so the content creators take all the financial risk.
However, YouTube does provide "Spaces" with access to equipment and post-production resources which is available free to creators with at least 5000 subscribers and "whose account is in good standing". There is only one YouTube Space in Europe and it is in Central London.
Rosie Allimonos summarised the key takeaways as Content, Community and Conversation. Her advice for creatives was to target a specific community, let the story influence the production values and engage with the audience.
5. The Two Tones: Tony Jordan and Tony Hall
This cheeky (but accurately) titled session was less of an interview – more of a laid-back conversation – between Tony Jordan and the new BBC Director General Tony Hall.
Tony Hall agreed pretty much with Tony Jordan's keynote speech about putting creativity at the forefront. Hall said that although ratings matter, the BBC should be all about taking creative risks, being edgy and pushing boundaries.
The Director General described the BBC's intention to be more enabling by providing "risk capital". Hall wants a BBC where it's okay to say "Really glad we tried that – it didn't work – so let's try something else". Hall believes moving BBC3 online – where shows will no longer need to fit specific time slots – will result in more challenging programmes.
"Taking creative risks" was the watchword of the day.
6. Selling Your Idea
Writer Peter Bowker chaired this session on how writers should pitch to production companies. On the panel was fellow writer Toby Whithouse, Jane Featherstone, the Chief Executive of Kudos and Chris Aird, Head of Drama, BBC Scotland.
Chris Aird gave the standard reply that submissions have to be via an agent and if the script was really good, they would meet the writer.
The surprise was Jane Featherstone – Kudos has a development team who look at submissions which are mostly from agents but not always. Featherstone admitted that when she receives an unsolicited submission directly to her email, she will forward it onto the development team and it will eventually get read. Featherstone also said that whilst she admires chutzpah – if the same idea has been rejected three times, it's time to move on!
On the question of how fully formed a pitch should be – Toby Whithouse replied that a pitch should have the DNA of a show – i.e. what is not going to change.
Whithouse described his working method – he comes up with the idea or precinct first, then steps back to work on the characters, writing biographies of all. He felt what made Being Human work is that all the characters were in place first, before the supernatural element was even introduced. On the shows Attachments and No Angels, everything was storylined including individual episodes.
Peter Bowker revealed his father's advice for his first pitch meeting in London: "Have three ideas and wear a big coat!" It is easier for a producer to say no to one idea – so it's best to have lots of pitches.
Pitches should have no attachments – i.e. actors – storyline is everything, followed by the episode script. The consensus is to cast in your head – and not on the script – it is too risky.
Peter Bowker described his typical pitch document – four pages, beginning with the pitch, followed by the character breakdowns and episode outlines. Sometimes, he might foreground a character and include sample quotes.
Chris Aird said to write from the heart rather than second guessing the market. The advice was not to ape somebody else's voice or to deliberately set out to create a transatlantic show as it would lose what made it unique in the first place. Featherstone added that it was the specificity of an idea that made it attractive.
Finally Jane Featherstone's key advice: "Know the landscape before you pitch" – watch TV, the shows and the channels – and always watch the first episode of everything as someone is bound to ask your opinion on a new show.
7. New Markets: Do we still need broadcasters?
Writer Barbara Machin chaired this session on the impact of the new distribution methods and markets on both writers and traditional broadcasters. Helping her to make sense of the changes were Sky's Acting Head of Drama, Cameron Roach, BBC Worldwide's Global Editorial Director Liam Keelan and writer-showrunner Jed Mercurio.
The recent revolution in the media and broadcasting landscape can be likened to a Big Bang resulting in an expanding universe. In addition to the old media of terrestrial, cable and satellite television, there is now a plethora of online and streaming platforms – YouTube, Netflix, Amazon, Hulu and so on. Even individual brands are hosting content – Mid Morning Matters with Alan Partridge was shown on the Australian lager company Foster's Funny website.
Barbara Machin asked each of the panellists in turn about the effect of the new markets on the industry and writers.
First to comment was Sky's Cameron Roach and he talked about how modern audiences have an enthusiasm – a hunger – for drama. Series finale episodes have now become events and have to be watched live for fear of spoilers.
A channel needs just two or three of these "noisy content" shows to push subscriptions – as for example House of Cards and Orange is the New Black have done for Netflix.
Roach pointed out that the situation is such that a show brand can now overtake the brand of the channel itself – for example some viewers are convinced Downton Abbey is BBC!
For Sky, pre-recognition is very important. The second series of Mid Morning Matters with Alan Partridge will be broadcast on Sky Atlantic.
BBC Worldwide's Liam Keelan insisted traditional broadcasting was not dying and pointed to research that showed that 85% of all TV viewing is still live.
There is a growing demand for drama and more drama is being made – helped by a shift from film to TV. BBC Worldwide has responded to these changes by doubling its investment in drama over the next five years.
Keelan argued that writers create content and do not care about the delivery system. He believed that broadcasters and online platforms can all co-exist. For example, the comedy The Wrong Mans starring and written by James Corden and Matthew Baynton was a co-production between the BBC and the American streaming service Hulu.
Writer and showrunner Jed Mercurio also believes that the different content creation platforms can be complementary. He pointed to the fact that the second series of Line of Duty benefitted from that complementarity with 50% of the audience coming via catch-up. However, for the final episode, the majority of the audience watched live – which ties in with what Cameron Roach observed about series finales being events.
Mercurio also flagged up that in the US, there are big differences between shows on networked and subscription channels in terms of what is acceptable with regards to language, violence and sex.
In the UK, this same polarity occurs but it is between different terrestrial broadcast channels – for example, BBC1 or ITV1 versus BBC2 or Channel 4.
This means that in the UK, we can make those US subscription cable type shows with the adult content for terrestrial TV. Mercurio terms this "Horizontality" meaning in effect we have one UK terrestrial broadcaster.
However, there is another polarity – both in the US and the UK – and that is between the rich and poor – those who can afford subscription TV and those who cannot.
Barbara Machin asked the panel how quality has been affected by these new markets.
Liam Keelan said there was no negative impact on quality or scale – it was actually a "mixed economy". The online markets attracted certain genre shows that are not found on terrestrial – the so-called smart and noisy content that Cameron Roach referred to earlier.
Jed Mercurio wondered whether some writers could have a primary commissioning relationship with the online streaming platforms. He thought there was a danger that a minority of writers would benefit tremendously.
These noisy content shows would not be written by new – or even established – writers but by an elite of big hitting writers – which Mercurio feared would result in a distortion in the industry.
Jed Mercurio did not use the term "Premier League" but to me it very much sounded like that was what he feared was going to happen.
The BBC Drama Commissioner Ben Stephenson was in the audience and he made a telling point at the very end of the discussion – he was surprised no one had questioned what effect these new markets and platforms would have on the BBC licence fee.
Final Thoughts
Overall, there were three key points I personally took away from the Festival.
1. Take more creative risks
2. Create "noisy content"
I suspect these first two are related!
3. The future is online.
This third point needs some elaboration. To me it seems clear now that with the proliferation of internet streaming services, more and more scripted drama (and comedy) will be online – possibly exclusively online. I believe that will be the new default – so much so that "web drama" will lose its prefix and just become known as drama again.
I also suspect that Jed Mercurio's warning that the new markets may lead to a sort of 21st century "closed shop" of commissioning open to a select few writers will happen. But it hasn't happened yet, and during this (possibly brief) period of flux and change, there is – and I'm going to borrow a phrase from the BBC here – a window of creative opportunity.
And right now that window is still open to everyone.
And that leaves me excited.
And wanting to write.
Kulvinder Gill is an Indian-born, Scottish-educated, London-based writer specialising in comedy, sci-fi and horror. His Writers' Guild profile page is here and his Twitter handle is @KulvinderGill
---