Studio21 Script Competition Finalists 2021
December 1, 2021 Industry News
Studio21, the C21-backed development producer hosted the final of its annual script competition at Content London this week, aiming to discover, develop and connect the best new writers with the global business.
Now in its eighth year, the Studio21 Drama Series Script Competition will pay out a £10,000 development option prize.
This year's finalists, picked from more than 250 entrants, pitched their shows at the Content London conference. The winner will be announced at the International Drama Awards held on Thursday evening.
Here's a look at the six projects and writers bidding for glory.
606
By Irshad Ashraf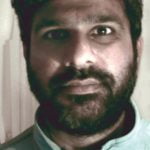 606 is a crime serial in the vein of Top Boy and Breaking Bad. It's about a City banker who hits a glass ceiling at work and returns to her estranged family in Bradford, Yorkshire, where her financial expertise sparks the interest of a crime boss.
Passionate about telling entertaining stories with a social heart, Irshad is a Netflix Screenwriters' Fellowship finalist and has directed over 50 films including Bafta- and RTS Award-winning factual series on the BBC, ITV, Channel 4, Channel 5 and Sky. Raised in working class areas of Manchester by parents from Pakistan, he has a fluid, layered identity that imbues his work with fresh perspectives.
Blood On The Tapes
By Charlie Fink
Ruth Brooks, a late-night radio DJ in New York, is losing her audience and her purpose. The tone of her demo review show has tipped from charming to bitter, leaving her at odds with her station. But when she plays a track discovered by a listener on an anonymous reel-to-reel tape, her excitement is palpable.
Charlie Fink is a British screenwriter and songwriter known for fronting the band Noah & the Whale and for his work as a theatre and film composer. He has been described as "one of Britain's most daring and inventive songwriters" by the Sunday Times.
Off Grid
By Julie Mayhew

In this tense, atmospheric thriller with episodes corresponding to the eight distinct seasons recognised by the Sámi people of the north, a 40-something British wild woman has her secluded existence in the forests of Swedish Lapland invaded by a tenacious new neighbour, the latter convinced the former is a dead celebrity.
Julie Mayhew is a journalist turned actress turned writer. Her stage plays have been backed by Arts Council England and her Afternoon Dramas for BBC Radio 4 have twice been nominated for BBC Audio Drama Awards. She is the author of four Carnegie-nominated novels for young adults and her thrillers for adults are published by Bloomsbury.
Perpetuity
By Savina Kanagasabay

Perpetuity, a six-part series, follows the lives of a family living under the shadow of the renowned and controversial Bhagwan Sath, leader of the BabaSat organisation with over eight million followers worldwide.
Savina is a half Tamil, half Sinhalese Sri Lankan scriptwriter born in London. Previously a City lawyer for over a decade, writing constantly but mainly witness statements, her first TV script, The Sink, was short-listed and long-listed for C21, BBC Writersroom and A Thousand Pictures competitions.
Spinner & Marie
By Joanne Thomson

When the Pulse nightclub shooting rocks the queer community, a religious Scottish widow makes up for lost time and drives her red mobility scooter right out the closet, across the Atlantic and on a weed-fuelled road trip with an eccentric woman.
Joanne Thomson is an actor, writer and director from Glasgow. After graduating from the Royal Conservatoire of Scotland, she was selected as a Bafta Los Angeles Newcomer and has worked across Bafta-winning and Emmy-nominated series with the BBC, ITV and Sony. In addition to directing award-winning theatre, her writing has been placed in several screencraft competitions.
Uninvited Guests
By Kit Brookman

When Dan, working as a property host in the gig economy, stumbles across a crime scene, he accidentally becomes the target of dangerous competing interests intent on recovering a vital piece of evidence he takes with him by mistake.
Kit Brookman is a playwright and screenwriter based in the UK. His plays have been produced in the UK, US, Germany and Australia, where he is originally from.
---