Screenwriting Agents – UK
If you're looking for help and advice to get a screenwriting agent in the UK, you've come to the right place!
If you're not familiar with the film, television and screenwriting industry, it can feel impossible to navigate and build connections and relationships with those 'inside' it.  So we're here to help you learn about how the industry works, get your work read by the right people and move your screenwriting career forward.
First, if you haven't yet read How To Get A Screenwriting Agent it's well worth checking out for some great advice.
And if you're ready to dig deeper, we've got you covered with our Essential UK Agents Primer which you can download for FREE by clicking on the right. ➡️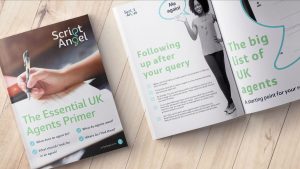 Remember that in the UK literary agents both manage a writer's career and negotiate contracts for them. In the US this role is divided into two distinct roles of Manager (who manages your career) and Agent (who does the deals). So in the US, it's advisable for new writers to look first for a Manager, rather than Agent.
The literary agencies we've listed aren't necessarily recommendations so, as always, please be sure to do your own research before submitting your work to anyone. Submission policies vary among the agencies, with some more open to approaches than others, so please check out their websites for further information about how to submit to them.
42
Alan Brodie Representation
Berlin Associates
Blake Friedmann Literary Agency
Casarotto Ramsay & Associates / Casarotto Marsh Ltd
Cecily Ware Literary Agents
Collective Talent
Culverhouse Associates
Curtis Brown
Darley Anderson Literary Agency
David Higham Associates
Dench Arnold
Elaine Steel Management
Gemma Hirst Associates
Imagine Talent
Independent Talent
ICM (International Creative Management)
JAB Management
Janet Fillingham Associates
JFL Agency
Julia Tyrell Management
Ki Agency
Kitson Press Associates
Knight Hall Agency
Linda Seifert Management
Lisa Richards Agency
MBA Literary Agency
Micheline Steinberg Associates
Nick Turner Management
Rochelle Stevens & Co
Sayle Screen
Sheil Land Associates
Smart Talent
SoloSon Media
Tennyson Agency
The Agency
United Agents
Valerie Hoskins Associates
Victoria Lepper Associates
Vivienne Clore Talent Agency
William Morris Agency
To find out more about what agents do, what they look for in a writer and how best to approach them, download our FREE Essential UK Agents Primer  ➡️
And for a bespoke, personalised strategy to build your portfolio ready to secure representation and take the next step on your screenwriting journey, check out our Screenwriting Coaching service.