The Edinburgh Television Festival recently launched a pre-Festival, digital programme of industry events. Hayley McKenzie reports from 'Meet The Controllers'; a series of online video interviews with channel controllers and commissioners from the main UK national broadcasters.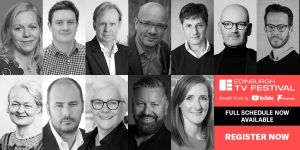 Ian Katz – Channel Four, Director of Programmes
Drama production has been most impacted by lockdown and will likely be last to get back into production given the complexity of filming and large crews required, with the drama slate affected by the delivery of shows pushed on, some by months others into next year. This means there will be fewer commissioning gaps to fill in the next two years.
They are now pausing development and putting the drama team on furlough while they re-evaluate. Looking further ahead they may to be interested in drama ideas that are lower-budget to support newer writers. Katz said he admired what Ben Frow has been doing at Channel 5 with low cost drama.
They are interested to see how drama writers and producers respond thematically to the changed world we live in and sensed that there is renewed interest and strong involvement in community which he hoped drama creators can speak to in a visceral and compelling way.
Katz said "It will be particularly interesting to reflect on how we relate to consumerism, a globalised world, science and expertise after this pandemic. Scripted is brilliant at pulling the zeitgeist out of the air and responding to that creative challenge."
Kevin Lygo – ITV, Director of Television
In drama both 'Emmerdale' and' Coronation Street' were forced to stop filming, though both teams are working hard to storyline episodes that could be shot with social distancing restrictions in place. On the current reduced transmission schedule they have enough episodes of 'Emmerdale' to last until the end of May and of 'Coronation Street' until early June.
Jeff Pope's 'Isolation Stories' have been a fantastic fast-turnaround drama response to the pandemic. They may not be the future of drama but are an interesting experiment. Lygo said "it's been particularly interesting to see how it works to shoot properly within a lockdown scenario."
Advertising revenue has been hit hard but they have not needed to actively cut programme budget for this year because spend has been cut by the cancellation of large sports events which they would have been paying for. And the delay in delivery of dramas will also delay that spend into next year. Question marks now are over next year's programme budget.
They will honour every commission made but production may be delayed even once filming restrictions are lifted due to talent being double-booked. For example actor Vicky McClure was filming 'Line of Duty' which she hasn't completed. She was due to then film a big drama with ITV, so when filming restrictions are lifted she will have to finish 'Line of Duty' first and the ITV drama will have to wait for her.
Inevitably there will be a gap in commissioning down the road but ITV is committed to helping support the independent production community with a development fund.
They will relax the rigour with which they integrate an idea before committing developing funding and are aware how important it is that they continue to support development.
Charlotte Moore, BBC Director of Content and Piers Wenger, BBC Controller of Drama Commissioning
Notes from this session are taken from Andrew Oldbury.
Yesterdays talk with Charlotte Moore and Piers Wenger about the future of the BBC post-corona virus suggests they're very keen on new "ambitious dramas". Especially ones that can be filmed within the UK to avoid travel bans. Wonderful to hear that there's more appetite than ever for ambitious dramas, and following BBC3 recent success with 'Normal People' and 'In My Skin' they'll be increasing the number of series made for the channel.
Cameron Roach – Sky, Director of Drama and Sky Studios
Notes from this session are taken from a Broadcast article.
Co-pros are halted and a domestic push is planned. Sky director of drama Cameron Roach expects to commission more fully-funded, domestic projects as he put the brakes on any overseas shooting until spring 2021.
Roach said he is being "quite cautious" about attempting to restart production on shows with an international footprint. "I've said to our indies that it is better for us to be planning shoots in spring 2021 than for anything to be shot this year," he said. "In some instances that may result in us being too cautious – but I would rather be realistic."
While considering each show on his slate on a case-by-case basis, Roach anticipates being able to get domestic dramas, such as the second series of Temple, back up and running this year.
"It is really important to have something to aim for," he said. "If we said that the future is completely unknown then it becomes very hard for people to motivate themselves. We are trying to build a mechanism to continue to shoot anything which had infrastructure in place this year."
Roach said that he anticipates ordering more fully-funded, domestic shows as a result of Sky's "most ambitious" international shows, which tend to involve co-producers, being pushed further back.
"There will be an opportunity to do more 'licence fee-plus' shows so we are not so reliant on big international co-pros," he said. "We enjoy our partnerships but don't want to be completely dependent on them and I would like more of a mixed ecology in terms of the shape and cadence of the slate."
He highlighted World Productions' 'Save Me Too', which topped Sky's most-downloaded chart of the last three weeks, as a relatively inexpensive project. "To have more Save Me-shaped shows in our pipeline would be no bad thing," he said. "The drama industry has become very focused on the high-end and it would be good to see more variance."
Roach also floated the suggestion that in the longer-term Sky could employ more production staff on a full-time basis in a bid to reduce the number of freelancers exposed to market downturns.
"I'm considering whether Sky Studios' dramas could adopt more of a staff structure so [people] aren't so reliant on freelance wages and rhythm of working," he said. "It's something we might look at collectively as an industry, as I am conscious of the heavy reliance on freelance staff who we all have responsibility for."
He also revealed that there have been fortnightly calls between himself and the heads of drama at the PSBs since lockdown was introduced, to pool tips and examples of best practice. "It is a time to be collegiate," he said.
Ben Frow – Viacom UK, Director of Programmes – Channel 5, Comedy Central, MTV
Frow admitted to finding working from home very challenging saying he "Thrives on creative conversations borne of being in a room with people – video conferencing doesn't replicate it."
They are looking at their schedule through to next April and planning for worst case scenarios; what if there's a second wave of the pandemic in the winter, what if we're back in total lockdown again and filming is suspended again and what will our content look like in those scenarios?
He noted this is a time for the industry to help each other. Citing as an example that 'Neighbours' is back in production in Australia and there may be "lessons we can learn from them and share with others here who are trying to get drama into production again."
Channel 5 has had a lot of success with lower-tariff drama and they still have an ambitious drama strategy and want to do a lot more drama in the future. Frow added "I'm hoping our drama producers who have been commissioned will continue with pre-production, casting, getting scripts ready and will be ready to film (even with restrictions in place) as soon as we can."
New pitches will need to include production workarounds and will need to be able to be made even with certain restrictions in place for the next six to twelve months. They're working on the assumption that there will be no international travel for at least the next twelve months.
Will the schedules return to how they looked before the pandemic? Frow isn't convinced; "I'm not sure they [our audience] will want the same content. I think we will have been changed by this."
Right now plans and productions for Comedy Central are on hold and they won't be creating a whole load of new comedy programmes this year. But Frow was keen to end on a positive note; "We will come through this and it will all be alright eventually"
Richard Watsham – UKTV, Director of Commissioning
They can and are continuing to commission but the question is, when can we make it? If we want to make it how we used to, how long will we have to wait to do that, or what editorial compromises are we willing to make in order to move ahead earlier?
They are also continuing to commission the development of new shows. 'Flack' (on W) and 'Traces' (on Alibi) have done well for them and they intend to build on that success and commission more drama in the future.
Fiona Campbell – BBC3 Controller and Shane Allen – BBC Comedy Controller
BBC3 is now focused on the 25-and-under demographic, dialling up on the aspiration of this age group who are at this specific life stage.
Out-of-London and lower-income demographic (which most young people are because of the stage of life they're at) is a priority for the channel.
Drama 'Normal People' has brilliantly captured the awkwardness of this life stage in a really compelling way. Visual cohesiveness of a series in any genre remains really important to them. They've found half hour to be a good episode length for the channel, for both factual and scripted and they will continue to commission shows in that format across all genres.
Although they focus on content for under-25s, Campbell noted that "when you have a hit you also pull in a wider demographic"; 'This Country', 'Man Like Mobeen' and 'Young Offenders' attracted 60% under 35s, meaning 40% of their audience was older than this.
Out of London content is really important and they are creating specific BBC3 Nations opportunities. They are briefing to indies in specific nations and regions on an opportunity with funded development behind it.
Shane Allen on BBC Comedy noted that they commission 18 months out so are looking quite a long way out. Writing and pitching can still happen so they are very much still commissioning with a forward mindset. Longevity is particularly important for scripted comedy which is an expensive genre, so they're not looking for low-tariff 'of the moment' and disposable shows.
If pitching now, Allen suggested not to worry about pitching shows that are specially designed to be filmable under social distancing restrictions.
They are looking for authentic voices and looking for that talent more broadly than just the Edinburgh Festival. They are creating access points to support the development of new voices with a series of specific bursaries, including the Felix Dexter Bursary, Caroline Ahearne Bursary and the recently announced Galton and Simpson Bursary.
[Editor note: you can read an interview with Sophie Willan here, previous recipient of the Caroline Ahearne Bursary and creator of 'Alma's Not Normal']
They want shows with a strong sense of identity and place and are not looking for shows set in an affluent world; they need content to be more widely accessible than that.
Allen added that he still strongly believes in the value of sketch shows and will continue to commission them noting that "They're a brilliant stepping stone for new talent. Writing a six episode half-hour narrative comedy series straight out the gate is really hard; sketch shows offer a brilliant training ground."
---