Katherine Lannon produced film wins BAFTA Cymru Award!
October 15, 2019 Industry News
We're thrilled to share the news that feature film Last Summer, produced by Katherine Lannon, won the BAFTA Cymru Award for Best Feature / Television Film.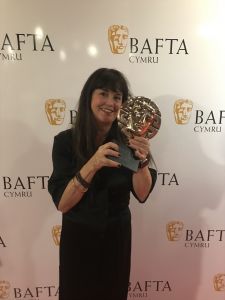 Written and directed by Jon Jones, Last Summer is a powerful coming-of-age story set in the rural beauty of West Wales one fateful summer. Ten-year-old Davy takes on the adult world as he, his brother and two best friends run away after a family tragedy threatens to pull their lives apart.
Last Summer (lastsummer.com) was produced with support from Film Cymru, Great Point Media and Paul Higgins and is available to rent or buy now on Amazon, iTunes and other digital platforms.
Katherine Lannon said; "Winning the BAFTA Cymru Award for Best Feature for Last Summer was an extraordinary end to the rites of passage of making my first independent feature film. It was a privilege to develop and produce Last Summer with talented writer/director Jon Jones and to showcase the beauty of Wales and Welsh talent. A huge thank you to everyone who helped bring this film to life."
Lannon was joined at the star-studded event by Script Angel's CEO Hayley McKenzie and Cardiff-based Director of Development Jane Dauncey.  The BAFTA Cymru Awards were held at the magnificent St David's Hall in Cardiff on Sunday, 13 October 2019, celebrating the best in Welsh film, television and games production.
The event was attended by screenwriting legends Andrew Davies (Les Miserables, War and Peace) and Russell T Davies (A Very English Scandal, Doctor Who) who won the Writer Award, as well as emerging writers Kayleigh Llewellyn, whose comedy In My Skin won Best Television Drama, and Jamie Jones who won Breakthrough Talent for his feature film Obey.
Congratulations to Katherine and all the BAFTA Cymru Award nominees and winners!
Join in the conversation on Twitter at: @filmlastsummer  @ffilmcymruwales  @BaftaCymru @scriptangel1
---