Cinema or Living Room: Writing for Film and TV by Joe Williams
With the emergence of VOD platforms and cheaper forms of digital film production, there has never been a more exciting time or as many opportunities to create film or TV content as there is now.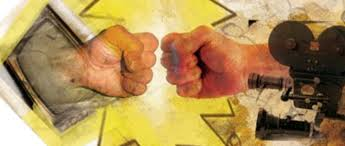 TV in particular is said to be going through a 'Second Golden Age' with shows such as True Detective, Broadchurch, Breaking Bad and Sherlock rivalling or even superseding films in terms of public discussion.
The UK has no shortage of distinctive and talented writers working in both formats; yet despite this, there are only a few who equally move between both mediums. Examples of these 'format hoppers' include: Abi Morgan, Jeff Pope, Peter Morgan and Dennis Kelly. At the same time, iconic writers such as Jimmy McGovern, Sally Wainwright and Russell T Davies have carved out enduring careers exclusively in television, while Jane Goldman, John Hodge and Hossein Amini have concentrated on film.
I personally adore both and will happily jump from Sherlock to Sherlock Holmes in the blink of an eye. Having also worked in film and TV development, Hayley has kindly asked me to share a few thoughts about writing for both mediums and what can be expected in the development process.
Structuring Your Script: Arguably the greatest difference is the amount of freedom in terms of length and structure. When writing film scripts, entire pages can be added and discarded often with little consequence to the overall film. In TV, a script's length is poured over, especially in production where a read-through will typically be timed. The length of your script is even more pronounced if you have to factor ad breaks when writing for broadcasters such as ITV or Channel 4. While working on the Channel 4 Screenwriting Course, we would discuss the importance of creating a strong inciting incident at the end of 'Part 1' (around p12-15), to ensure a potentially fickle audience would be hungry for more. In film, you are able to delay this to a later point, giving you the freedom to write closer to your own pace.
If you're writing for TV, your series also has to compete with any number of distractions in the home from the kitchen to your iPhone (in my case, guilty as charged!), so the need for attention-grabbing material is more pronounced. When your film is on general release, you can take comfort that the audience is locked in and hopefully free from distraction. Of course, many TV writers relish these challenges and such constraints can push you to write taut and tightly structured scripts that still allow your vision to shine through.
The Development Process: A common complaint heard in film or television development is the lengthy amount of time it takes to get projects off the ground. Even so, there is still often a clear difference between the mediums in terms of the amount of time spent developing projects. In film, you are typically allowed to work to your own timescale within reason. Even if you have a creatively strong script, it can still take months or even years as the producers delve in to the quagmire of film financing. In TV, the time scale is notably accelerated, particularly if you find yourself working for hire on an existing series. This does not necessarily mean that TV is the quickest way to getting your writing out there, as a variety of issues from the broadcaster's end can come into play before your work reaches the screen. Either style can work for you depending on your personality but when writing for both mediums it's worth preparing for lengthy periods of waiting, punctuated by occasional bursts of energy.
Broadcasters and Distributors: In the British film industry, while there are many distribution companies with distinct identities (Artificial Eye generally release 'art-house' films, while Lionsgate tend towards action genre titles), there is generally less consideration of where your script will end up during the writing process. While no TV broadcaster would wish to compromise a screenwriter's vision, when assessing material they still look for stories that will sit comfortably alongside their current slate. Therefore, when writing your TV script, it can occasionally be worth bearing in mind where you want to see your show transmitted. Say you've written a gritty crime drama, do you want to see it in the company of Luther (BBC), Broadchurch (ITV) or Top Boy (Channel 4)?
Directors: In television, despite the influx of 'auteur' directors, the writer is still traditionally in a greater position of influence in contrast to film. To give an example, whenever Abi Morgan pens a new TV series, such as The Hour, she tends to take centre stage in terms of its promotion. This is in contrast to her film work, in which she has generally taken a backseat in the public eye to either the director (Shame) or the subject matter (The Iron Lady). The world of film is undoubtedly exciting and writing for it can offer more structural freedom, but it is still, at least in the public eye, the medium of the director.
Your Characters: Another factor to influence your writing is the different directions you can take your characters in. When writing a film script you can decide your characters' endpoints and use it to inform their actions. Television offers you the chance to keep on developing the characters while knowing who will be cast in the roles so you can write to their voices. What's more, TV can allow you the opportunity to re-invent your work based on background characters. Kryten in Red Dwarf and The Fonz in Happy Days are both breakthrough characters that emerged long after their pilots were written.
Ultimately, it's a question of personal preference whatever medium you choose to write for in terms of working habits and your own creative instincts. As mentioned, many writers have succeeded in finding their voices in both fields and given the increased opportunities in terms of technology and platforms, it's very possible to wear two hats or one, depending on what fits you best.
Joe Williams is a freelance development consultant working for numerous film and television production companies. He has previously worked in development for Scott Free Films, Sprout Pictures and Channel 4's Drama Department. Joe recently also participated in the Channel 4 Screenwriting Course as a Shadow Script Editor. You can follow Joe on Twitter @josephmwilliams
---